Paul C. Lauterbur Ph.D.
The Nobel Prize in Physiology or Medicine 2003
Nobel Co-recipient Sir Peter Mansfield
The President's National Medal of Science - Physical Sciences 1987
The National Medal of Technology and Innovation 1988
Chemist. Magnetic resonance imaging.

"Every great idea in history has the red stamp of rejection on its face. If you scratch any innovation's surface, you'll find the scars: they've been roughed up and thrashed around by the masses and the leading minds before they made it into your life."
Journal Articles
Image Formation by Induced Local Interactions
Examples: Employing Nuclear Magnetic Resonance. Nature 242, 190-191 (1973).
MRI - a new way of seeing
In 1973, Paul Lauterbur described an imaging technique that removed the usual resolution limits due to the wavelength of the imaging field. He used two fields: one interacting with the object under investigation, the other restricting this interaction to a small region. Rotation of the fields relative to the object produces a series of one-dimensional projections of the interacting regions, from which two- or three-dimensional images of their spatial distribution can be reconstructed. Application of this technique as magnetic resonance imaging is now widespread.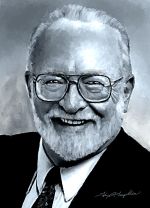 Painting Tim Tompkins - PaintHistory.com
Name: Paul Christian Lauaterbur
Birth: 6 May 1929, Sidney, OH, USA
Death: 27 March 2007, Urbana, IL, USA
Institution: University of Illinois, Urbana, IL, USA
Award: "for their discoveries concerning magnetic resonance imaging"
Subject: Diagnostic imaging
Portion of Cash: 1/2
Biography
Books
Journal Articles
Patents
History of Discovery
Death
Harassment
Health
Humor/Quotations
Images
Maverick
Videos
General Nobel Prize Information