Get your name and photo in with Nobel Prize 'Winners'! Make a tax deductible Donation today!
Happily, we will include your name and photo as a sponsor in our library website for all the world to see! If you wish to be anonymous, we respect your wishes.
Ganga Library kindles a fire in you revealing to you your hidden aspirations, abilities and skills. Ganga raises your own goals and motivates you to achieve those goals by reading inspirational material regarding high achievers. Ganga provides you and people worldwide, ideas to solve scientific, social and planetary problems.
Thank You and Best Wishes!
Some of Our Donors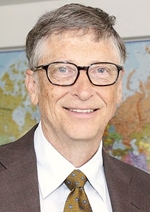 Photo: Russel Watkins/DFID/Wiki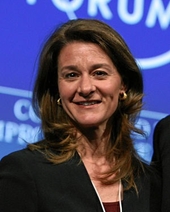 Photo: World Economic Forum/Wiki
Bill and Melinda Gates Foundation, Seattle, WA
Krishna Kumar, Ph.D., Chemist and Principal Investigator, Medford, MA

The K Foundation, Kansas City, MO

Kamal Preet Dhawan M.D., Psychiatrist - Child & Adolescent Psychiatrist, Lancaster, CA.
Raviteja Pathuri M.S., Computer Engineer, Chicago Il.

Tom Wilke, B.A.Sc., International multi-lingual business student, Breda Area, Netherlands
Christina I. Rodriguez, J.D., Attorney, Beverly Hills, CA
Prasanna Krishna, B.E., Senior Software Engineer, Atlanta, GA

Ingrid Nkenlifack, Student, Bowie, MD

Deepthi Illendula, Chemist, Chicago, IL

Kit Hinkle, Summerville, SC

Soumi Manna, Computer Engineer, Rawlins, WY
Discover Your Abilities and Aspirations!

$10 $25 $50 $100 Other
Tax Exempt 501(c)3 Non-Profit Organization
Any Currency

"One comes to be of just such stuff as that on which the mind is set" - Maithri Upanishath, VI.34:3

"…the peace that is found in libraries and laboratories…" - Louis Pasteur
Ganga library non-profit 501(c)(3) org. Contributions tax deductible. IRS Tax ID 46-2892728

Copyright © 2022 Ganga Library Inc.   All Rights reserved.;