Paul C. Lauterbur Ph.D.
The Nobel Prize in Physiology or Medicine 2003
Nobel Co-recipient Sir Peter Mansfield
The President's National Medal of Science - Physical Sciences 1987
The National Medal of Technology and Innovation 1988
Chemist. Magnetic resonance imaging.

"Every great idea in history has the red stamp of rejection on its face. If you scratch any innovation's surface, you'll find the scars: they've been roughed up and thrashed around by the masses and the leading minds before they made it into your life."
Biography
Paul Lauterbur, A biographical Memoir by Joan Dawson, wife. National Academy of Sciences. 20 pages
Wife Joan Dawson, Physiologist and Biophysicist: Life is so strange. It was because of the tortured history of NMR Specialties that Paul happened to be on hand to witness the experiments that raised in his mind the possibility of Magnetic Resonance Imaging. Paul was always squeamish about everything medical and biological, everything that had to do with blood and other tissues. He was loath to go to doctors and totally intimidated by the idea that he might have to have an injection or to have blood drawn. So finding a way to do NMR studies noninvasively took on a special meaning for him.
Lauterbur died in March 2007 of kidney disease at his home in Urbana, Illinois. University of Illinois Chancellor Richard Herman said, "Paul's influence is felt around the world every day, every time an MRI saves the life of a daughter or a son, a mother or a father."

Paul Lauterbur
Find in a library near you. In Worldcat page, click book of interest to you. Scroll down to libraries which possess book. Possibly more than one person with the same name.
Discover Your Abilities and Aspirations!

$10 $25 $50 $100 Other
Tax Exempt 501(c)3 Non-Profit Organization
Any Currency

"One comes to be of just such stuff as that on which the mind is set" - Maithri Upanishath, VI.34:3

"…the peace that is found in libraries and laboratories…" - Louis Pasteur
Ganga library non-profit 501(c)(3) org. Contributions tax deductible. IRS Tax ID 46-2892728

Copyright © 2023 Ganga Library Inc.   All Rights reserved.;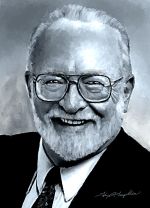 Painting Tim Tompkins - PaintHistory.com
Name: Paul Christian Lauaterbur
Birth: 6 May 1929, Sidney, OH, USA
Death: 27 March 2007, Urbana, IL, USA
Institution: University of Illinois, Urbana, IL, USA
Award: "for their discoveries concerning magnetic resonance imaging"
Subject: Diagnostic imaging
Portion of Cash: 1/2
Biography
Books
Journal Articles
Patents
History of Discovery
Death
Harassment
Health
Humor/Quotations
Images
Maverick
Videos
General Nobel Prize Information