Paul C. Lauterbur Ph.D.
The Nobel Prize in Physiology or Medicine 2003
Nobel Co-recipient Sir Peter Mansfield
The President's National Medal of Science - Physical Sciences 1987
The National Medal of Technology and Innovation 1988
Chemist. Magnetic resonance imaging.

"Every great idea in history has the red stamp of rejection on its face. If you scratch any innovation's surface, you'll find the scars: they've been roughed up and thrashed around by the masses and the leading minds before they made it into your life."
Health
Lauterbur passed away in March 2007 of kidney disease at his home in Urbana, Illinois.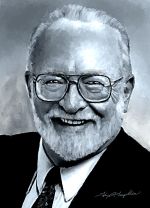 Painting Tim Tompkins - PaintHistory.com
Name: Paul Christian Lauaterbur
Birth: 6 May 1929, Sidney, OH, USA
Death: 27 March 2007, Urbana, IL, USA
Institution: University of Illinois, Urbana, IL, USA
Award: "for their discoveries concerning magnetic resonance imaging"
Subject: Diagnostic imaging
Portion of Cash: 1/2
Biography
Books
Journal Articles
Patents
History of Discovery
Death
Harassment
Health
Humor/Quotations
Images
Maverick
Videos
General Nobel Prize Information