Thought Process of Nobelists - Simple Analogy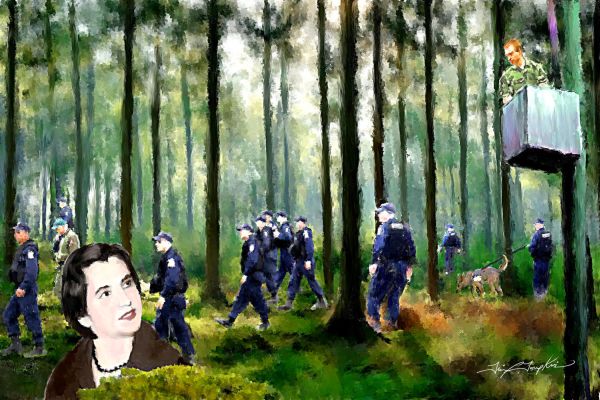 David Sweat hiding in hunters' tree stand, Police Officers missing him and Rosalind Franklin discovering him by looking for him up in the air. Painting: Tim Tompkins PaintHistory.com 6.5X10 150dpi.jpg
David Sweat and Richard Matt escaped from Clinton Correctional Facility in upstate New York in the summer of 2015. Richard Matt was shot dead; David Sweat was shot and captured. Sweat claimed that when the police were searching for him, at one point, he had climbed a tree and he was hiding in a hunting tree stand when an officer walked right past him on the ground.
Generally, when looking for a person outdoors, people look in front of them, on their sides, behind themselves, on the ground and sometimes underground. In science, many scientists do something similar.
Scientists of Nobelists' caliber wonder, "Is it up in the air?" They look up and make a great discovery!
The search cost nearly $1 million per day for 23-days to the New York state police and corrections department. 1,100 law enforcement officers searched heavily forested 75 square miles, about the size of Brooklyn, NY. Other searchers were Vermont police [additionally cost $84,880], U.S. Marshals Service, FBI and local police agencies. "Not a single member of the public or law enforcement was harmed." Source: CNN.