H. Gobind Khorana, Ph.D.
The Nobel Prize in Physiology or Medicine 1968
National Medal of Sciences - Biological Sciences 1978
Co-Nobelists: Robert W. Holley, Marshall W. Nirenberg
Organic Chemist, Biochemist. 'Genetic code interpretation, function in protein synthesis. Pioneered synthesizing biologically active gene, determine codon triplets' nucleotides order. Unraveled genetic code, how nucleic acids form proteins. Pioneered genetic engineering. Multidisciplinary work.

"Wife brought sense of purpose. In foreign country, I felt out of place everywhere, at home nowhere."
Images
Har Khorana in his labrotory and office at the University of Wisconsin, mid-1960's.
1966 Cold Spring Harbor Symposium on protein synthesis. (L-R) Har Gobind Khorana, Francis Crick, Marianne Grunberg-Manago.
Har Gobind Khorana's (pictured on the left) lecture on total synthesis of a biologically functional gene. (Photo: U.S. National Library of Medicine, History of Medicine Division)
Discover Your Abilities and Aspirations!

$10 $25 $50 $100 Other
Tax Exempt 501(c)3 Non-Profit Organization
Any Currency

"One comes to be of just such stuff as that on which the mind is set" - Maithri Upanishath, VI.34:3

"…the peace that is found in libraries and laboratories…" - Louis Pasteur
Ganga library non-profit 501(c)(3) org. Contributions tax deductible. IRS Tax ID 46-2892728

Copyright © 2020 Ganga Library Inc.   All Rights reserved.;
Photo Wiki. Painting Tim Tompkins - PaintHistory.com
Name: Har Gobind Khorana
Birth: 9 January 1922, Raipur, India
Death: 9 November 2011, Concord, MA, USA
Institution: University of Wisconsin, Madison, WI, USA
Award: "for their interpretation of the genetic code and its function in protein synthesis."
Portion of Cash: 1/3
Education, Mentors: D.A.V. High School, Multan, India; Influential Teacher; Ratan Lal.
B.Sc. 1943 & M. Sc. 1945, Punjab University, Lahore, India; Supervisor: Mahan Singh.
Ph. D. University of Liverpool, UK 1948, Indian government scholarship; Mentor: Roger J. S. Beer.
Postdoc Eidgenössische Technische Hochschule, Zurich, 1948-1949; Mentor: Vladimir Prelog, Chemistry Nobelist 1975.
Postdoc Cambridge University, England 1949; Mentors: G. W. Kenner & A. R. Todd, Chemistry Nobelist 1957.
Books
Eponyms
Family/Youth
Hobbies/Interests
Images
Nobel Prize General Info
Patents
Personality
Work Environment
Videos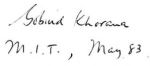 <