H. Gobind Khorana, Ph.D.
The Nobel Prize in Physiology or Medicine 1968
National Medal of Sciences - Biological Sciences 1978
Co-Nobelists: Robert W. Holley, Marshall W. Nirenberg
Organic Chemist, Biochemist. 'Genetic code interpretation, function in protein synthesis. Pioneered synthesizing biologically active gene, determine codon triplets' nucleotides order. Unraveled genetic code, how nucleic acids form proteins. Pioneered genetic engineering. Multidisciplinary work.

"Wife brought sense of purpose. In foreign country, I felt out of place everywhere, at home nowhere."
Eponyms
Khorana Program
Promoting Scientific Cooperation between India and the United States
Khorana Scholars
Opportunities for future Khorana fellows
The Khorana program is making possible the exchange of students between select Indian institutions, the University of Wisconsin-Madison, and partner U.S. universities. Undergraduate Khorana Scholars from India will spend the summer in research laboratories at U.S. universities, mentored by university faculty members. They will have the opportunity to become part of major research programs with international teams of scientists. Indian Scholars enrolled in M.Tech, B.Tech, or M.Sc. programs at any academic institution in India are eligible for this scholarship. In exchange, Khorana Scholars from U.S. universities will be placed in laboratories of Indian partner institutions for similarly enriching experiences.
Mission
The mission of the Khorana Program is to build a seamless community of scientists, industrialists, and social entrepreneurs in the US and India. Founded in 2007, the program honors Har Gobind Khorana, the Indian-born scientist whose research at the University of Wisconsin-Madison led to the Nobel Prize and ushered in the era of Biotechnology and Synthetic Biology. Khorana epitomizes the value of global exchange of ideas and partnerships. The Khorana program is focusing on three key objectives to build deep-rooted bridges to strengthen the strategic partnership between US and India.
Objectives:
Providing US and Indian scholars with a transformative educational and cultural experience
Engaging partners in rural development and sustainable food security programs
Facilitating mutually beneficial Public-Private partnerships between US and India
Program Summary
The University of Wisconsin-Madison (UW), the Government of India (DBT), and Indo-US Science and Technology Forum (IUSSTF) jointly created the prestigious Khorana Program for scholars. This partnership is a first of its kind, and reflects a strong commitment to fostering creativity, excellence and seamless exchange of ideas. Over the past four years, nearly 50 students, representing the top 0.008% of the Indian student pool, have conducted research in leading UW laboratories. Many scholars were recruited back to top US universities for graduate research. In parallel, nearly 15 US students were placed in leading academic and industrial laboratories in India. The US scholars developed long-term networks and a unique appreciation for the nature of scientific endeavor in India.   (Genesis of Khorana Program)
Please enjoy this presentation to learn more about the Khorana Program.
The program is currently expanding beyond the University of Wisconsin-Madison to partner universities in the Committee on Institutional Cooperation (CIC).  During the summer of 2013, the Khorana and Bose programs supported 80 Indian scholars to the U.S. and 20 U.S. scholars to India. 
Information on the S. N. Bose USA - India exchange program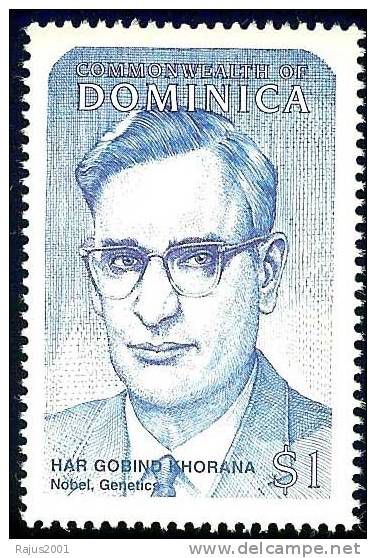 Har Gobind Khorana, Biochemist. Nobel Prize for Elucidation of the Genetic code, Genetics Medicine Science MNH Dominica [3 EUR]
Discover Your Abilities and Aspirations!

$10 $25 $50 $100 Other
Tax Exempt 501(c)3 Non-Profit Organization
Any Currency

"One comes to be of just such stuff as that on which the mind is set" - Maithri Upanishath, VI.34:3

"…the peace that is found in libraries and laboratories…" - Louis Pasteur
Ganga library non-profit 501(c)(3) org. Contributions tax deductible. IRS Tax ID 46-2892728

Copyright © 2020 Ganga Library Inc.   All Rights reserved.;
Photo Wiki. Painting Tim Tompkins - PaintHistory.com
Name: Har Gobind Khorana
Birth: 9 January 1922, Raipur, India
Death: 9 November 2011, Concord, MA, USA
Institution: University of Wisconsin, Madison, WI, USA
Award: "for their interpretation of the genetic code and its function in protein synthesis."
Portion of Cash: 1/3
Education, Mentors: D.A.V. High School, Multan, India; Influential Teacher; Ratan Lal.
B.Sc. 1943 & M. Sc. 1945, Punjab University, Lahore, India; Supervisor: Mahan Singh.
Ph. D. University of Liverpool, UK 1948, Indian government scholarship; Mentor: Roger J. S. Beer.
Postdoc Eidgenössische Technische Hochschule, Zurich, 1948-1949; Mentor: Vladimir Prelog, Chemistry Nobelist 1975.
Postdoc Cambridge University, England 1949; Mentors: G. W. Kenner & A. R. Todd, Chemistry Nobelist 1957.
Books
Eponyms
Family/Youth
Hobbies/Interests
Images
Nobel Prize General Info
Patents
Personality
Work Environment
Videos