Julius Axelrod Ph.D.
The Nobel Prize in Physiology or Medicine 1970
Co-Nobelists Sir Bernard Katz, Ulf von Euler
Pharmacologist. Neurophysiologist. Mechanism for storage, release, inactivation of humoral transmitters in nerve endings. Discovered drug metabolic pathways: hydroxylation, demethylation, deamination, conjugation. Led to liver's microsomal drug-metabolizing enzymes discovery. Pheochromocytoma. Carboxylmethyl transferase. Melatonin.

Ideal mentor. Infectious exhilaration in discovery. Research was genuine fun. Students came out of lab with same attitude.
Videos
History of Neuroscience: Julius Axelrod. Society for Neuroscience. Published on Jul 5, 2012. 56:04.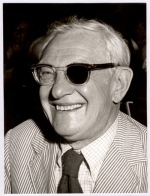 Photo: NIH
Name: Julius Axelrod
Birth: 30 May 1912, New York, NY, USA
Death: 29 December 2004, Rockville, MD, USA
Institution: National Institutes of Health, Bethesda, MD, USA
Award: "for their discoveries concerning the humoral transmittors in the nerve terminals and the mechanism for their storage, release and inactivation"
Subject: neurophysiology
Portion of Cash: 1/3
Biography
Books
Publications
Patents
Images
Health
Videos
Education
Thesis: 'The Fate of Phenylisopropylamines.'