Julius Axelrod Ph.D.
The Nobel Prize in Physiology or Medicine 1970
Co-Nobelists Sir Bernard Katz, Ulf von Euler
Pharmacologist. Neurophysiologist. Mechanism for storage, release, inactivation of humoral transmitters in nerve endings. Discovered drug metabolic pathways: hydroxylation, demethylation, deamination, conjugation. Led to liver's microsomal drug-metabolizing enzymes discovery. Pheochromocytoma. Carboxylmethyl transferase. Melatonin.

Ideal mentor. Infectious exhilaration in discovery. Research was genuine fun. Students came out of lab with same attitude.
Education
B. Sc. 1933, College of City of New York.
M. A. 1941, New York University.
Post M.A., JA Considered Bernard "Steve" Brodie as Advisor.
Ph. D. Pharmacology 1955, George Washington University. Advisor George Mandel.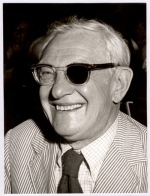 Photo: NIH
Name: Julius Axelrod
Birth: 30 May 1912, New York, NY, USA
Death: 29 December 2004, Rockville, MD, USA
Institution: National Institutes of Health, Bethesda, MD, USA
Award: "for their discoveries concerning the humoral transmittors in the nerve terminals and the mechanism for their storage, release and inactivation"
Subject: neurophysiology
Portion of Cash: 1/3
Biography
Books
Publications
Patents
Images
Health
Videos
Education
Thesis: 'The Fate of Phenylisopropylamines.'