Julius Axelrod Ph.D.
The Nobel Prize in Physiology or Medicine 1970
Co-Nobelists Sir Bernard Katz, Ulf von Euler
Pharmacologist. Neurophysiologist. Mechanism for storage, release, inactivation of humoral transmitters in nerve endings. Discovered drug metabolic pathways: hydroxylation, demethylation, deamination, conjugation. Led to liver's microsomal drug-metabolizing enzymes discovery. Pheochromocytoma. Carboxylmethyl transferase. Melatonin.

Ideal mentor. Infectious exhilaration in discovery. Research was genuine fun. Students came out of lab with same attitude.
Books
The history of neuroscience in autobiography. vol. 1.
Editors: Larry R. Squire. Hardcover. ISBN: 9780126603019. Imprint: Academic Press. 18th March 1998. Pages 607
NINDS at 50: Celebrating 50 Years of Brain Research by Lewis P Rowland. EBook. Publisher: New York: Demos Medical Pub., LLC, 2003.
Julius Axelrod, PhD. by Robert Kanigel; American Association of Neurological Surgeons. VHS tape: Publisher: [Park Ridge, Ill.]: The Association, ©1990.

Julius Axelrod.
Find in a library near you. In Worldcat page, click book of interest to you. Scroll down to libraries which possess book. Possibly more than one person with same name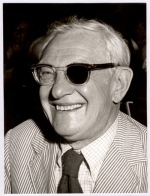 Photo: NIH
Name: Julius Axelrod
Birth: 30 May 1912, New York, NY, USA
Death: 29 December 2004, Rockville, MD, USA
Institution: National Institutes of Health, Bethesda, MD, USA
Award: "for their discoveries concerning the humoral transmittors in the nerve terminals and the mechanism for their storage, release and inactivation"
Subject: neurophysiology
Portion of Cash: 1/3
Biography
Books
Publications
Patents
Images
Health
Videos
Education
Thesis: 'The Fate of Phenylisopropylamines.'