George H. Whipple M.D.
The Nobel Prize in Physiology or Medicine 1934
Co-Nobalists George R. Minot, William P. Murphy
Physician; Pathologist. Pernicious anaemia liver therapy. Whipple Disease. Intestinal parasites. Blackwater fever. WWII, Chloroform anesthesia induced liver necrosis. Liver regeneration. Tuberculosis. Pancreatitis. Used Nobelists Joliot Curie's, Fermi's, E.O. Lawrence's radioactive isotopes; discovered iron metabolism; protein metabolism, distribution, functions. Bile constituents. Red cell stroma.

Gentle. Quiet. Wanted to be remembered as teacher.
Biography
George Whipple memoirs
by Leon L. Miller, National Academy Press Bio 22 pages 25 pages total.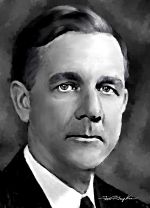 Photo Wiki. Painting Tim Tompkins - PaintHistory.com
Name: George Hoyt Whipple
Birth: 28 August 1878, Ashland, NH, USA
Death: 1 February 1976, Rochester, NY, USA
M.D. Johns Hopkins University, 1905
Institution: University of Rochester, Rochester, NY, USA
Award: "for their discoveries concerning liver therapy in cases of anaemia"
Subject: hematology
Portion of Cash: 1/3
Biography
Books
Videos
Honoring George Whipple
Founder
Nobel Prize Medal

Discover Your Abilities and Aspirations!

$10 $25 $50 $100 Other
Tax Exempt 501(c)3 Non-Profit Organization
Any Currency

"One comes to be of just such stuff as that on which the mind is set" - Maithri Upanishath, VI.34:3

"…the peace that is found in libraries and laboratories…" - Louis Pasteur
Ganga library non-profit 501(c)(3) org. Contributions tax deductible. IRS Tax ID 46-2892728

Copyright © 2023 Ganga Library Inc.   All Rights reserved.;