Niels Ryberg Finsen M.D.
The Nobel Prize in Physiology or Medicine 1903
Physician. Founder, phototherapy in dermatology. Lupus vulgaris treatment. Researched salt. Despite having Niemann-Pick disease, strong willed, persevering.

Denmark early education - Rector: "Niels is a very nice boy. His gifts are small; he's devoid of energy." Cause: fagging for older pupils. Moved to Iceland school; succeeded despite not knowing language.
Nobel Prize Cash and Philanthropy
The Nobel Prize award ceremony was held in Stockholm on December 10, 1903. Finsen, having been chronically unwell was in a wheel chair at home. Innumerable people he knew were congratulating him on being awarded the Nobel Prize. At that time, Finsen announced that he would donate 50,000 crowns of the Prize money to the Finsen Institute. He would also donate 60,000 crowns to a sanatorium for heart and liver diseases which too he had founded.
Finsen's donations immediately lead to his two main donors also donating 50,000 crowns to the Finsen Institute.
Therefore, despite Finsen's poor health, the Prize helped spread Finsen's ideas and it helped his Finsen Institute.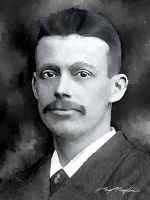 Photo Wiki. Painting Tim Tompkins PaintHistory.com
Name:Niels Ryberg Finsen
Birth: 15 December 1860, Thorshavn, Faroe Islands (Denmark)
Death: 24 September 1904, Copenhagen, Denmark
Affiliation at the time of the award: Finsen Medical Light Institute, Copenhagen, Denmark
Prize motivation "in recognition of his contribution to the treatment of diseases, especially lupus vulgaris, with concentrated light radiation, whereby he has opened a new avenue for medical science"
Field: Dermatology, radiology
Biography
Books
Journal Articles
Images
Bearing Laureates Name
Audio
Health
Nobel Medal Cash Charity