Niels Ryberg Finsen M.D.
The Nobel Prize in Physiology or Medicine 1903
Physician. Founder, phototherapy in dermatology. Lupus vulgaris treatment. Researched salt. Despite having Niemann-Pick disease, strong willed, persevering.

Denmark early education - Rector: "Niels is a very nice boy. His gifts are small; he's devoid of energy." Cause: fagging for older pupils. Moved to Iceland school; succeeded despite not knowing language.
Audio

NIELS FINSEN by John H. Lienhard. Engines of our Ingenuity, Episode 1769, University of Houston. Please click for audio of article in text.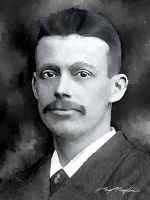 Photo Wiki. Painting Tim Tompkins PaintHistory.com
Name:Niels Ryberg Finsen
Birth: 15 December 1860, Thorshavn, Faroe Islands (Denmark)
Death: 24 September 1904, Copenhagen, Denmark
Affiliation at the time of the award: Finsen Medical Light Institute, Copenhagen, Denmark
Prize motivation "in recognition of his contribution to the treatment of diseases, especially lupus vulgaris, with concentrated light radiation, whereby he has opened a new avenue for medical science"
Field: Dermatology, radiology
Biography
Books
Journal Articles
Images
Bearing Laureates Name
Audio
Health
Nobel Medal Cash Charity