Niels Ryberg Finsen M.D.
The Nobel Prize in Physiology or Medicine 1903
Physician. Founder, phototherapy in dermatology. Lupus vulgaris treatment. Researched salt. Despite having Niemann-Pick disease, strong willed, persevering.

Denmark early education - Rector: "Niels is a very nice boy. His gifts are small; he's devoid of energy." Cause: fagging for older pupils. Moved to Iceland school; succeeded despite not knowing language.
Biography
Title:

Author:
Publisher:
Pages:

From patient to discoverer- Ryberg Finsen (1860-1904) -the founder of phototherapy in dermatology, CARETAKER OF THE SKIN by Andrzej Grzybowski MD, PhDa,b,?, Krzysztof Pietrzak MD, PhDc., Edited by Andrzej Grzybowski, MD, PhD. Elsevier, Clinics in Dermatology (2012) 30, 451-455.
Niels Ryberg Finsen by Dennis P. Valenzeno, Associate Dean for Medical Sciences, Chair and Professor of the Department of Medical Sciences, The University of Kansas Medical Center - Wichita. Short article.
THE FIRST NOBEL PRIZE FOR MEDICINE TO THE NORDIC COUNTRIES (NIELS RYBERG FINSEN, 1903) by Wolfram KOCK (Stockholm, Suède). 4 pages
In Danish Only, interesting images for English readers
Heliotherapy - light therapy. Science Museum.
Our Friend, the Sun: Images of Light Therapeutics from the Osler Library Collection, c. 1901-1944. Digital exhibition by the Osler Library of the History of Medicine, McGill University
Niels Finsen by John H. Lienhard. Engines of our Ingenuity. University of Houston TX.
Memoir of Funeral of Niels Ryberg Finsen, and Clippings 1904. National Library of Medicine, USA.
Audio

NIELS FINSEN by John H. Lienhard. Engines of our Ingenuity, Episode 1769, University of Houston. Please click for audio of article in text.

Niels Ryberg Finsen works , Internet Archive

Find in a library near you. In Worldcat page, click book of interest to you. Scroll down to libraries which possess book. Possibly more than one person with same name
Discover Your Abilities and Aspirations!

$10 $25 $50 $100 Other
Tax Exempt 501(c)3 Non-Profit Organization
Any Currency

"One comes to be of just such stuff as that on which the mind is set" - Maithri Upanishath, VI.34:3

"…the peace that is found in libraries and laboratories…" - Louis Pasteur
Ganga library non-profit 501(c)(3) org. Contributions tax deductible. IRS Tax ID 46-2892728

Copyright © 2022 Ganga Library Inc.   All Rights reserved.;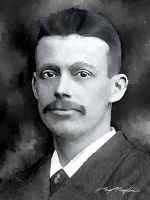 Photo Wiki. Painting Tim Tompkins PaintHistory.com
Name:Niels Ryberg Finsen
Birth: 15 December 1860, Thorshavn, Faroe Islands (Denmark)
Death: 24 September 1904, Copenhagen, Denmark
Affiliation at the time of the award: Finsen Medical Light Institute, Copenhagen, Denmark
Prize motivation "in recognition of his contribution to the treatment of diseases, especially lupus vulgaris, with concentrated light radiation, whereby he has opened a new avenue for medical science"
Field: Dermatology, radiology
Biography
Books
Journal Articles
Images
Bearing Laureates Name
Audio
Health
Nobel Medal Cash Charity