Elias James Corey Ph.D.
The Nobel Prize in Chemistry 1990
Organic Chemist - Interested in application of organic chemistry to human health. His groups have achieved a multitude of total syntheses of complex molecules. Originator of retrosynthetic analysis. Recognized as "Most Cited Author in Chemistry" by American Chemical Society in 2002.

"Organic chemistry was especially fascinating with its intrinsic beauty and its great relevance to human health."
Publications
The Compiled Works of E.J. Corey
Publications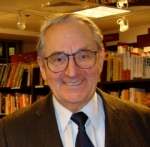 Photo: Elias .J. Corey at Harvard. Creator: Trvthchem personal photo. 19 Nov 2007. Source: Wikimedia Commons.
Name: Elias James Corey
Birth: 12 July 1928, Methuen, MA, USA
Institution: Harvard University, Cambridge, MA, USA
Award: "for his development of the theory and methodology of organic synthesis"
Subject: organic chemistry
National Medal of Science Chemistry 1988
Biography
Nobel Lecture
Publications
Books
Patents
Thesis
History of Discovery
Honoring Corey
Images
Videos