Mario R. Capecchi Ph.D.
The Nobel Prize in Physiology or Medicine 2007
Nobel prize also awarded to Sir Martin J. Evans and Oliver Smithies
National Medal of Science - Biological Sciences 2001
Molecular Geneticist. Introduced specific gene modifications in mice by using embryonic stem cells. Gene Targeting, Homeobox Genes, Development, Behavior.

Mother incarcerated as political prisoner, Germany. "At age 4½, I set off on my own, living in streets, orphanages; joining gangs of homeless children; generally hungry. Vivid recollections, brutal beyond description."
Books

Title
The Power of Inquiry: A Tribute to Mario Capecchi, Ph. D., University of Utah Geneticist and Nobel Laureate
Authors:
Susan Sample, Sean Graff
Publisher:
Office of Public Affairs, University of Utah Health Sciences, 2008
Length:
24 pages

Chapter by Dr. Mario R. Capecchi, Human Germline Gene Therapy; How and Why. Pages 31-42
Title
Engineering the Human Germline : An Exploration of the Science and Ethics of Altering the Genes We Pass to Our Children: An Exploration of the Science and Ethics of Altering the Genes We Pass to Our Children
Editors:
Science Technology and Society Program UCLA Center for the Study of Evolution and the Origin of Life Gregory Stock Director, John Campbell Professor of Neurobiology UCLA School of Medicine
Publisher:
Oxford University Press, 2000
ISBN:
0195350936, 9780195350937
Length:
192 pages
Subjects:
Medical Genetics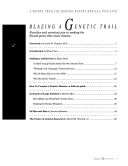 Title
Blazing a genetic trail: families and scientists join in seeking the flawed genes that cause disease
Authors:
Maya Pines, Howard Hughes Medical Center
Publisher:
Howard Hughes Medical Institute, 1991
Length:
56 pages
Summary:
Presents "Blazing a Genetic Trail," an electronic publication of the Howard Hughes Medical Institute (HHMI) based in Chevy Chase, Maryland. Includes articles pertaining to genetics and hereditary diseases. Contains articles about the Human Genome Project, cystic fibrosis (CF), DNA and genetic disorders, mutations, inherited diseases, the use of mice in genetic research, and other items. Offers access to introductory information on genetics and a glossary.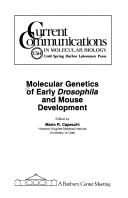 Title
Molecular genetics of early Drosophila and mouse development
Banbury report
Current communications in molecular biology
A Banbury Center meeting
Author:
Cold Spring Harbor Laboratory
Editor:
Mario R. Capecchi
Edition:
Illustrated
Publisher
Cold Spring Harbor Laboratory press, 1989
ISBN:
0879693398, 9780879693398
Length:
141 pages
Subjects:
Science, Developmental genetics, Molecular Genetics, Drosophila

Title
On the Mechanism of Suppression and Polypeptide Chain Initiation
Author:
Mario Ramberg Capecchi
Dissertation:
Ph. D. Harvard University, 1967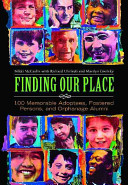 Title
Finding Our Place: 100 Memorable Adoptees, Fostered Persons, and Orphanage Alumni
Author:
Nikki McCaslin
Contributors:
Richard Uhrlaub, Marilyn Grokzky
Edition:
Illustrated
Publisher
Greenwood Press, 2009
ISBN:
0313342709, 9780313342707
Length:
363 Pages
Subjects:
Adoptees,Foster children, Orphans,Biography

Find in a library near you. In Worldcat page, click book of interest to you. Scroll down to libraries which possess book. Possibly more than one person with same name
Discover Your Abilities and Aspirations!

$10 $25 $50 $100 Other
Tax Exempt 501(c)3 Non-Profit Organization
Any Currency

"One comes to be of just such stuff as that on which the mind is set" - Maithri Upanishath, VI.34:3

"…the peace that is found in libraries and laboratories…" - Louis Pasteur
Ganga library non-profit 501(c)(3) org. Contributions tax deductible. IRS Tax ID 46-2892728

Copyright © 2022 Ganga Library Inc.   All Rights reserved.;