Sir Chandrasekhara Venkata Raman M.A. [Physics]
The Nobel Prize in Physics 1930
Atomic Physicist. Molecular Diffraction of Light. Raman Effect. Structure, optical behaviour of iridescent substances. Acoustics, violin.

Raman lost Nobel Prize money to fraudulent financer. Meeting fraudster years later, he said: You deserve Nobel Prize for your cunning in duping Nobel Laureate!

Playful comment: Unfortunately Economics Nobel instituted later in 1969!
Thought Process
Arthur Compton was awarded the Nobel Prize in Physics in 1927 for the Compton Effect. The Effect describes X-Ray scattering. Upon reading this news, Raman was very excited. He felt that if it worked in the field of X-Ray, it ought to work in his field of Light, and that to the Compton Effect there must be an optical analogue.
Raman called his graduate student Krishnan and designed a research project. They conducted research. The discovery was named Raman Effect.
As per legend, Raman mailed the research article for publication. Promptly he booked two seats on a ship from Kolkata, India, to reach Stockholm, Sweden the following December. He was very confident of being awarded the Nobel Prize. Raman was extraordinarily self-confident.
Source: István Hargittai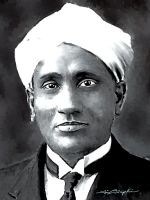 Painting Tim Tompkins - PaintHistory.com
Name: Sir Chandrasekhara Venkata Raman
Birth: 7 November 1888, Tiruchirappalli, India
Death: 21 November 1970, Bengaluru, India
Institution: Calcutta University, Kolkata, India
Award: "for his work on the scattering of light and for the discovery of the effect named after him"
Subject: atomic physics, electromagnetism
Portion of cash: 1/1
Biography
Scientific Papers
Thought Process
Founder
Nobel Medal Cash
Humor
Videos
Innovation
B.A., M.A. Physics: Presidency College, Madras.
B.A. 1904: first place, gold medal.
M.A. 1907: highest distinctions.
Research: optics and acoustics.