Joshua Lederberg Ph.D.
The Nobel Prize in Physiology or Medicine 1958
Nobel co-recipients George Beadle, Edward Tatum
National Medal of Science - Biological Sciences 1989
Geneticist. Genetic recombination and organization of genetic material of bacteria. Artificial intelligence. NASA seeking life on Mars. Fastest rate possible for growth of bacterial cell and why. Nobel Prize at age 33.

At Nobel Banquet, "Pride is humbled as humility is exalted in the dignity and splendor of this occasion."
Patents
Publication:
1/1
Publication No:
US 20040033584 A1
Title:
Therapeutic use of particles displaying pathogen-specific binding moieties
Publication Type:
United States Utility Patent
Publication Date:
Feb 19, 2004
Filing Date:
Dec 21, 2000
Inventors:
Lederberg Joshua
Assignee:
Lederberg Joshua
Abstract:
The present invention relates to the therapeutic use of particles which are efficiently removed from the circulation, the said particles display pathogen-specific binding moieties to chaperone the clearance of potentially injurious substances from a vertebrate's circulation. The invention is also drawn to methods for treating, diagnosing, or screening for diseases and disorders associated with the presence of the pathogens. The present invention also relates to pharmaceutical compositions and diagnostic kits containing the therapeutic particle which displays the pathogen binding moiety of the invention.
Representative Figure:
No Figure
Details
Google Patents
Discover Your Abilities and Aspirations!

$10 $25 $50 $100 Other
Tax Exempt 501(c)3 Non-Profit Organization
Any Currency

"One comes to be of just such stuff as that on which the mind is set" - Maithri Upanishath, VI.34:3

"…the peace that is found in libraries and laboratories…" - Louis Pasteur
Ganga library non-profit 501(c)(3) org. Contributions tax deductible. IRS Tax ID 46-2892728

Copyright © 2023 Ganga Library Inc.   All Rights reserved.;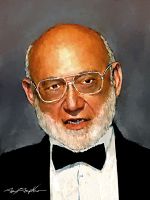 Photo NIH. Painting Tim Tompkins - PaintHistory.com
Name: Joshua Lederberg
Birth: 23 May 1925, Montclair, NJ, USA
Death: 2 February 2008, New York, NY, USA
Institution: University of Wisconsin, Madison, WI, USA
Award: "for his discoveries concerning genetic recombination and the organization of the genetic material of bacteria"
Subject: genetics
Portion of cash: 1/3
Biography
Books
Publications
Patents
Images
Doctoral Advisor: Edward Tatum Nobel Corecipient
Videos