Joshua Lederberg Ph.D.
The Nobel Prize in Physiology or Medicine 1958
Nobel co-recipients George Beadle, Edward Tatum
National Medal of Science - Biological Sciences 1989
Geneticist. Genetic recombination and organization of genetic material of bacteria. Artificial intelligence. NASA seeking life on Mars. Fastest rate possible for growth of bacterial cell and why. Nobel Prize at age 33.

At Nobel Banquet, "Pride is humbled as humility is exalted in the dignity and splendor of this occasion."
Biography

Joshua Lederberg, Biographical memoir by S. Gaylen Bradley, National Academy of Sciences, 25 pages
Microbial Evolution and Co-Adaptation: A Tribute to the Life and Scientific Legacies of Joshua Lederberg: Workshop Summary. Institute of Medicine (US) Forum on Microbial Threats. Washington (DC): National Academies Press (US); 2009.
Title:
The Excitement and Fascination of Science: Reflections by Eminent Scientists. Vol 3
Editor:
Joshua Lederberg
Compiled by:
Joshua Lederberg
Publisher:
Annual Reviews, 1990
ISBN:
0824326032, 9780824326036
Length:
1038 pages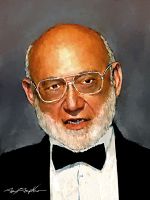 Photo NIH. Painting Tim Tompkins - PaintHistory.com
Name: Joshua Lederberg
Birth: 23 May 1925, Montclair, NJ, USA
Death: 2 February 2008, New York, NY, USA
Institution: University of Wisconsin, Madison, WI, USA
Award: "for his discoveries concerning genetic recombination and the organization of the genetic material of bacteria"
Subject: genetics
Portion of cash: 1/3
Biography
Books
Publications
Patents
Images
Doctoral Advisor: Edward Tatum Nobel Corecipient
Videos