Richard F. Heck Ph.D.
Nobel Prize in Chemistry 2010
Nobel co-recipients Ei-ichi Negishizz, Akira Suzuki
Physical organic chemist. Palladium-catalyzed cross-coupling reaction. Sole author - 7 consecutive papers. Heck reaction: important concept, tool for organic and medicinal chemists; fuorescence labeling of DNA bases - sequencing DNA/Genome. Thinner computer screens in future. "Great art in test tube."

Growing orchids in early teens lead to passion for chemistry.
History of Discovery
Carbon-Bonding Tool Nabs Nobel Chemistry Prize by Jenny Marder, Oct 6, 2010.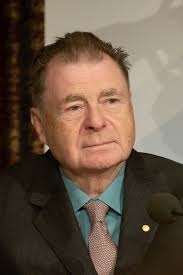 Photo: Holger Motzkau/Wikimedia Commons
Name: Richard Fred Heck
Birth: 15 August 1931, Springfield, MA, USA
Death: 9 October 2015, Manila, Philippines
Institution: University of Delaware, USA
Award: "for palladium-catalyzed cross couplings in organic synthesis"
Subject: Organic chemistry
Portion of cash: 1/3
Biography
Books
Defining Moment
Death
Doctoral Advisor: Saul Winstein
Family
Health
History of Discovery
Hobbies
Honoring Richard Heck
Images
Patents
Retirement
Quotations
Sadness
Videos
Youth