Nadine Gordimer
The Nobel Prize in Literature 1991
Writer, illustrated consequences of apartheid. For fifty years the 'Geiger Counter of Apartheid.

"My answer is: Recognize yourself in others"." A child understands fear, and the hurt and hate it brings". "Time is change; we measure its passing by how much things alter".
Books
Title:

Authors:
Edition:
Publisher:
ISBN:
Length:
Subjects:

Writing and Being
Charles Eliot Norton lectures
Nadine Gordimer
Reprint
Harvard University Press, 1995
067496232X, 9780674962323 333 pages
Language Arts & Disciplines
Find in a library near you. In Worldcat page, click book of interest to you. Scroll down to libraries which possess book. Possibly more than one person with same name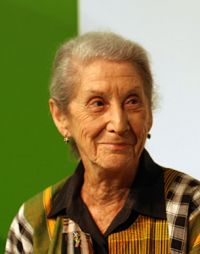 Gordimer at the Göteborg Book Fair, 2010. Photo: Bengt Oberger.
Name: Nadine Gordimer
Birth: 20 November 1923, Springs, South Africa
Death: 13 July 2014, Johannesburg, South Africa
Residence when prize awarded: South Africa
Award: "who through her magnificent epic writing has - in the words of Alfred Nobel - been of very great benefit to humanity"
Subject: Prose
Genre: Short Stories, Non-Fiction, Fiction, Drama
Language: English
Biography
Books
Videos