Nadine Gordimer
The Nobel Prize in Literature 1991
Writer, illustrated consequences of apartheid. For fifty years the 'Geiger Counter of Apartheid.

"My answer is: Recognize yourself in others"." A child understands fear, and the hurt and hate it brings". "Time is change; we measure its passing by how much things alter".
Longer biography, New York Times.
Biography
By Lillian Hatch
Nadine Gordimer was born in 1926 in the Transvaal region of South Africa near Johannesburg, to Jewish watch maker father who had immigrated from Russia and mother who had come from London, England. She was raised as a middle class child. Her father was not inclined to read. Her mother read to her daughters. She was largely educated at home but did study for a year at the University of Witwatersrand.
She was first published at the age of 15.
In 1954 she married art dealer Reinhold Cassirer who had served in the British Army in World War II and who was a refugee from Nazi Germany. She had two children. Later her daughter moved to France and her son moved to New York.
Nadine Gordimer used her writings to speak out against the apartheid practices of her country, South Africa. Although she denied she was political, the fact of living in the atmosphere of apartheid influenced everything she wrote. Many of her works were banned in her country. She was the first South African to be awarded the Nobel Prize in Literature.
It was the arrest of a friend and the Sharpeville Massacre on March 21st 1960 where black protestors were demonstrating against the Pass Laws (an internal passport system) that caused her to be involved in anti-apartheid activities. She joined the African National Congress when it was banned and participated in anti-apartheid activities. She became close friends with Nelson Mandela's defense attorneys during his 1962 trial and helped Mandela write the speech he gave at the trial entitled "I am prepared to die."
Her writings detailed the terrible effect that apartheid had on the lives of South Africans. Her first book The Soft Voice of the Serpent published in 1952 was a collection of short stories. In 1953 she wrote the novel The Lying Days. In 1974 she won the Booker prize for her book The Conservationist. Other novels included July's People, A Sport of Nature and My Son's Story.
After the end of apartheid, she wrote about environmental issues and was active in HIV/AIDS causes.
She passed away at the age of 90 in Johannesburg on July 13, 2014.
Biography written 6 Oct 2014
Discover Your Abilities and Aspirations!

$10 $25 $50 $100 Other
Tax Exempt 501(c)3 Non-Profit Organization
Any Currency

"One comes to be of just such stuff as that on which the mind is set" - Maithri Upanishath, VI.34:3

"…the peace that is found in libraries and laboratories…" - Louis Pasteur
Ganga library non-profit 501(c)(3) org. Contributions tax deductible. IRS Tax ID 46-2892728

Copyright © 2023 Ganga Library Inc.   All Rights reserved.;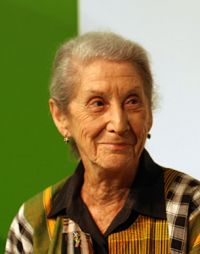 Gordimer at the Göteborg Book Fair, 2010. Photo: Bengt Oberger.
Name: Nadine Gordimer
Birth: 20 November 1923, Springs, South Africa
Death: 13 July 2014, Johannesburg, South Africa
Residence when prize awarded: South Africa
Award: "who through her magnificent epic writing has - in the words of Alfred Nobel - been of very great benefit to humanity"
Subject: Prose
Genre: Short Stories, Non-Fiction, Fiction, Drama
Language: English
Biography
Books
Videos