Leymah Gbowee MA [Major: Conflict Transformation]
Nobel Peace Prize 2011
Nobel Co-recipients Ellen Johnson Sirleaf, Tawakkol Karman
Liberian peace activist, social worker, women's rights advocate. Brought together Christian and Muslim women in a nonviolent movement that played a pivotal role in ending Liberia's civil war. Founder, Gbowee Peace Foundation Africa.

"Went from being an angry, broke, virtually homeless, 25-year-old mother to listening to the voice of God."
Quotations
1. The one thing I have never been afraid of is standing before important people and speaking my mind. I represent women who may never have the opportunity to go to the UN or meet with a president. I'm never afraid to speak truth to power.
2. There is something in this world that every individual can do. God has created all of us with something unique to contribute.
3. I have come to one conclusion: All that I am, all that I aspire to be, all that I was before, is by the grace of God. There are so many women in Africa, and outside Africa, who are more intelligent than I am.
4, Women are the ones that bear the greatest burden. We are also the ones who nurture societies.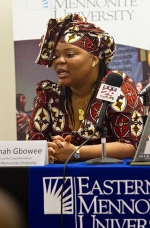 Photo: Jon Styer/Eastern Mennonite University/Wikipedia Commons
Name: Laymah Roberta Jbowee
Birth: 1 February 1972, Monrovia, Liberia
Redidence when prize awarded: Liberia
Award: "for their non-violent struggle for the safety of women and for women's rights to full participation in peace-building work"
Subject:Peace movement, Women's rights
Portion of cash: 1/3
Biography
Books
Images
Videos
Quotations
Founder