Georg Wittig Ph.D.
The Nobel Prize in Chemistry 1979
Nobel co-recipient Herbert C. Brown
Organic Chemist. Development of use of phosphorus into important reagents in organic synthesis. Wittig reaction. Mentored 300 graduate students, post-docs; provided close supervision for crucial experiments.

"Chemical research and mountaineering similar. To reach goal/summit, initiative, perseverance required. After hard work, great joy to be at goal/peak with its splendid panorama..."
Videos
Please do use your discretion. Videos in which the Laureates themselves speak are fine. Regarding other videos please accept truthful info and disregard the rest. Possibly more than one person with same name.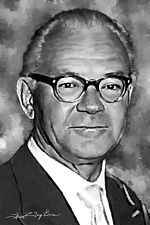 Photo Wikipedia. Painting Tim Tompkins PaintHistory.com
Name: Georg Wittig
Birth: 16 June 1897, Berlin, Germany
Death: 26 August 1987, Heidelberg, West Germany (now Germany)
Institution:University of Heidelberg, Heidelberg, Federal Republic of Germany
Award: "for their development of the use of boron- and phosphorus-containing compounds, respectively, into important reagents in organic synthesis"
Subject: Organic chemistry
Portion of cash: 1/2
Biography
Books
Hobbies
Quotations
Honoring Georg Witting
Videos