Jody Williams
The Nobel Peace Prize 1997
Nobel co-recipient: International Campaign to Ban Landmines ,
"for their work for the banning and clearing of anti-personnel mines."
Biography
Biography by Morgan McGuirk
Jody Williams was co-awarded the Nobel Peace Prize in 1997 for her work advocating for the banning and clearing anti-personnel mines around the world. Her award was shared with the organization she founded, the International Campaign to Ban Landmines (ICBL).i At the time of her award, she was the tenth woman and third American woman to have ever received the Nobel Peace Prize. While discovering the journey Williams took to becoming a Nobel Laureate, I learned that the path an individual takes in life can lead a person to greatness in very unexpected ways. From where a person first starts his or her journey to where a person ends up is not always a clear path. Jody Williams explains this best in her memoir stating that an "average woman" can make extraordinary change in the world through perseverance, courage and imagination.ii
Nobel Laureate Jody Williams
Source: Brattleboro Reformer
Jody Williams was born in 1950 and grew up in a small town in Vermont of just over a thousand people. Williams received an undergraduate degree in the arts in 1972 from the University of Vermont. Although she was not initially interested in foreign policy during college, the Vietnam War taking place during this time interested her for it was very controversial. After graduating from college, Williams worked as a dental assistant but soon realized this was not the right field for her, stating that she fainted seven times the first day on the job.iii Soon after, she returned to school and obtained a master's degree in teaching Spanish from the School for International Training in 1976. She travelled to Mexico as part of the program. Her travels further sparked her interest in international affairs.
After returning to the United States, she pursued her interest in foreign affairs by obtaining a master's degree in international relations from the Johns Hopkins School of Advanced International Studies in 1984.iv During graduate school, Williams studied international politics in El Salvador where she learned about how devastating antipersonnel landmines were to the local civilians. In a war-torn country, antipersonnel landmines in El Salvador were a great hazard to many innocent individuals. These antipersonnel landmines were specifically designed to explode if a person touched them, unlike other types of landmines that were built to explode if a tank or other heavy object came into contact with them. As antipersonnel landmines were greatly used during the Cold War, the landmines that had been left behind in numerous countries around the world were leading to many civilian casualties. During the early 1990s it was estimated that over 2,000 people a month were being killed by these devices.iii Until the U.S. pulled its aid from El Salvador, for over eleven years, Williams was very active in the effort to help civilian casualties of these mines by helping provide artificial limbs to injured children.
Upon returning to the U.S., Bobby Muller of the Vietnam Veterans of America asked Williams to start a campaign to raise awareness about antipersonnel landmines. Enthusiastically, she took on this challenge. During this time Williams also focused on other issues about which she was passionate. She raised awareness about U.S. foreign policy in Central America by establishing humanitarian relief projects including medical aid for El Salvador and education projects in Nicaragua and Honduras. She also established 'English as a Second Language' projects in Mexico, the U.K. and Washington D.C.iv Finally, in 1991, with the help of the Vietnam Veterans of America, Williams founded the International Campaign to Ban Landmines (ICBL). Initially, five non-governmental organizations (NGOs), including Handicap International, the Human Rights Watch, Medico International, Mines Advisory Group and Physicians for Human Rights were involved in the ICBL. The ICBL is cited for being successful for a variety of reasons under Williams' direction. The campaign was loosely structured and did not have centralized leadership, allowing for each organization to operate independently to adapt to what worked best in each region when addressing landmines. Also, the organizations that were successful at banning and removing landmines shared their stories with the other organizations and all the organizations met regularly to set goals for the next steps in the campaign.vi
International Campaign to Ban Landmines
Source: ICBL
Jody Williams meeting Cambodian Tun Channereth
before her Nobel Prize ceremony in 1997
Source: Reuters
By 1997, Williams was leading the ICBL. It had been established in over sixty countries. More than 1,000 NGOs were participating in the ICBL. Based on all of Williams' hard work, she received the Nobel Peace Prize, something she never expected to happen in life. Later, she continued her work with the ICBL, working with the United Nations and the International Committee of the Red Cross to develop an international treaty that banned anti-personnel mines. Additionally, Williams served as a technical advisor for the United Nations study on how armed conflicts impact children.viii In 1999, over 120 nations signed the Ottawa Convention, agreeing to ban the use, production, sale, and stock-piling of anti-personal mines. The agreement also established an initiative to clear mines and the obligation for each nation to provide assistance to those affected by the mines. Although Williams is from the U.S., it was not until 2014 that the U.S. agreed to accept most of the terms of the Ottawa Convention and to prohibit landmine use outside of the Korean Peninsula.ix
1997 Ottawa Convention, signing
of the treaty banning landmines
Source: United Nations Audiovisual Library
Today, Williams continues to advocate for banning landmines and participates in other human rights and global security efforts. From a small town in Vermont with no initial interest in foreign affairs, her life's journey unfolded in a very unexpected and meaningful way. She has received over fifteen honorary degrees for universities and was named one of the top 100 powerful women in the world by Forbes Magazine. Williams has also written numerous book chapters and articles for magazines and newspapers about landmines. In 2006 she tackled a new endeavor being one of the founders of the Nobel Women's Initiative with five other women who are Nobel Laureates to promote and advocate for women in leadership roles. The initiative's goal is to empower women to engage in world peace and equality efforts in countries around the world.x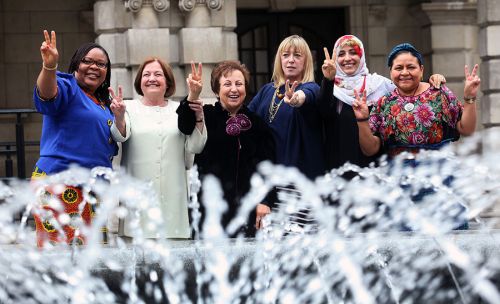 Jody Williams (third from the right) alongside
other women from the Nobel Women's Initiative
Source: Real Leaders
In 2012 she reflected on her life's journey publishing her memoir, My Name is Jody Williams, detailing her life to becoming a Nobel Laureate.xi As of 2020, the recent relaxation of U.S. foreign policy against landmine use in the Korean peninsula have made Williams speak out, advocating for stricter policies and enforcement.Xii Overall, Williams continues to advocate for important matters that she comes across in her life. She never thought she would have such an international impact on foreign policy or women's equality, but she continues to play a role in many important global matters.
Jody Williams' memoir about her life
and becoming a Nobel Laureate
Source: University of California Press
"Jody Miller Facts." The Nobel Prize.
Williams, Jody. 2013. My Name is Jody Williams. University of California Press.
Malek, Cate. 2005. "Co-recipient of the Nobel Peace Prize for her role as the founding coordinator of the International Campaign to Ban Landmines." Beyond Intractability.
Ibid. "Jody Miller Facts."
"Ending the Landmine Era – Victim Assistance." International Committee of the Red Cross. 8 Jan 2004.
Ibid. "Jody Miller Facts."
Ibid. Malek.
Ibid. "Jody Miller Facts."
"United States Government Loosens Restrictions on Landmines." Nobel Women's Initiative. 5 Feb 2020.
Nobel Women's Initiative.
"Ms. Jody Williams." International Campaign to ban Landmines.
Ibid. "United States Government Loosens Restrictions on Landmines."
Discover Your Abilities and Aspirations!

$10 $25 $50 $100 Other
Tax Exempt 501(c)3 Non-Profit Organization
Any Currency

"One comes to be of just such stuff as that on which the mind is set" - Maithri Upanishath, VI.34:3

"…the peace that is found in libraries and laboratories…" - Louis Pasteur
Ganga library non-profit 501(c)(3) org. Contributions tax deductible. IRS Tax ID 46-2892728

Copyright © 2021 Ganga Library Inc.   All Rights reserved.;