Christiane Nusslein-Volhard
The Nobel Prize in Physiology or Medicine 1995
Nobel co-recipients: Edward B. Lewis, Eric F. Wieschaus
Award: "for their discoveries concerning the genetic control of early embryonic development."
Nobel Prize Cash & Philanthropy
Christiane Nüsslein-Volhard initially did not use the Nobel Prize money for any particular cause. However, after a period of nine years she donated a significant part of the money for a charity which she herself established and which bears her name, The Christiane Nusslein-Volhard Foundation. The foundation helps young women scientists to pursue their careers by enabling them to pay for services and material such as child care and washing machines.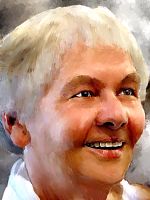 Photo Rama Wiki. Painting Tim Tompkins PaintHistory.com
Name: Christiane Nüsslein-Volhard
Birth: 20 October 1942, Magdeburg, Germany
Residence: Max-Planck-Institut für Entwicklungsbiologie, Tübingen, Federal Republic of Germany
Award: "for their discoveries concerning the genetic control of early embryonic development."
Portion of Cash: 1/3
Nobel Prize Cash & Philanthropy