Glenn T. Seaborg Ph.D.
The Nobel Prize in Chemistry 1951
National Medal of Science - Chemistry 1991
Nobel co-recipient: Edwin M. McMillan
Nuclear Chemist. Transuranium - Plutonium. Isotopes identification. Actinide concept. Atomic Bomb. Peaceful use of atomic energy. Advisor to 10 US Presidents. Swedish ancestry. Journal since age 8 yrs. Hiking.

Franck Report: "I had joined a committee of scientists who advocated the use of the atomic bomb for demonstration purposes. We hoped the enemy would see the destructive power of this weapon and immediately surrender. In June, 1945, we attempted to deliver our plan, the Franck Report, to President Truman. I don't know if he ever saw our work..."
Images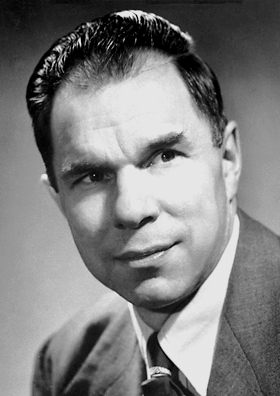 Glenn Theodore Seaborg Source:Wikimedia Commons
Seaborg in Laboratory. Photo: Wikimedia Commons
Atomic bombing of Nagasaki on August 9, 1945. Photo: Wikipedia
President Kennedy (right) and his Atomic Energy Commission Chairman, Glenn Seaborg. Photo: Wikimedia Commons
Seaborg (second from left) during Operation Blumbob Feb., 1968. Photo: Wikimedia Commons
Glenn Theodore Seaborg(right) with marine biologist Dixy Ray on Sept. 17, 1968. Source Wikimedia Commons
Glenn T. Seaborg (right) meeting with Vice President Al Gore in the White House in 1993. Photo: Wikimedia Commons
A "bomb" (pressure vessel) containing uranium halide and sacrificial metal, probably magnesium, being lowered into a furnace. Source Wikimedia
After the reaction, the interior of a bomb coated with remnant slag. Source Wikimedia
A uranium metal "biscuit" from the reduction reaction. Source Wikimedia
Discover Your Abilities and Aspirations!

$10 $25 $50 $100 Other
Tax Exempt 501(c)3 Non-Profit Organization
Any Currency

"One comes to be of just such stuff as that on which the mind is set" - Maithri Upanishath, VI.34:3

"…the peace that is found in libraries and laboratories…" - Louis Pasteur
Ganga library non-profit 501(c)(3) org. Contributions tax deductible. IRS Tax ID 46-2892728

Copyright © 2022 Ganga Library Inc.   All Rights reserved.;