Peyton Rous M.D.
The Nobel Prize in Physiology or Medicine 1966
Co-Nobelist Charles B. Huggins
Physician, Pathologist, Scientist. Tumor-inducing Rous Sarcoma Virus, tumor filtrate transplantability. Nobel 50 yrs after discovery. Blood transfusion, world's first blood bank, Rous-Turner solution. Accurate editing, content, style. Experiments: extreme clarity. Equanimity, warmth. Many old are young to life.

"Uneducated men can be as great-hearted, lovable as those who know much."
Books

Peyton Rous
Find in a library near you. In Worldcat page, click book of interest to you. Scroll down to libraries which possess book. Possibly more than one person width the same name.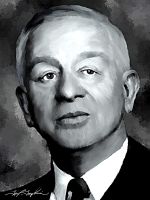 Painting Tim Tompkins - PaintHistory.com
Name: Peyton Rous
Birth: 5 October 1879, Baltimore, MD, USA
Death: 16 February 1972, New York, NY, USA
Institution: Rockefeller University, New York, NY, USA
Award: "for his discovery of tumour-inducing viruses"
Subject: medical oncology, virology
Portion of Cash: 1/2
Biography
Books
Publications
Images