Ilya Mechnikov Ph.D.
The Nobel Prize in Physiology or Medicine 1908
Nobel Co-recipient Paul Ehrlich
Ukrainian Zoologist. Theory of cellular immunity. Father of Natural immunity. Research: Comparative embryology, Phagocytosis, Anthrax, Rabies.

Weak eyesight, heart troubles, difficulties in University lead to pessimism. Twice attempted suicide. Discovery of phagocytosis completely changed his outlook on life; abandoned his pessimistic philosophy and determined to find further proof of hypothesis.
Books
Title
Author:
Elie Mechnikoff
Publisher:
Keener, 1906
Length:
104 pages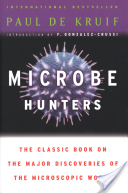 Title
Microbe Hunters
Author:
Paul de Kruif
Contributer:
F. Gonzalez-Crussi
Publisher:
Houghton Mifflin Harcourt, 2002
ISBN:
0898756227, 9780898756227
Length:
104 pages
Subjects
Science, Life Sciences, Biology

Find in a library near you. In Worldcat page, click book of interest to you. Scroll down to libraries which possess book. Possibly more than one person with same name
Discover Your Abilities and Aspirations!

$10 $25 $50 $100 Other
Tax Exempt 501(c)3 Non-Profit Organization
Any Currency

"One comes to be of just such stuff as that on which the mind is set" - Maithri Upanishath, VI.34:3

"…the peace that is found in libraries and laboratories…" - Louis Pasteur
Ganga library non-profit 501(c)(3) org. Contributions tax deductible. IRS Tax ID 46-2892728

Copyright © 2020 Ganga Library Inc.   All Rights reserved.;
Photo: Wiki. Painting Tim Timpkins - PaintHistory.com
Name: Ilya Ilyich Mechnikov
Birth: 16 May 1845, Kharkov (now Kharkiv), Russian Empire (now Ukraine)
Death: 16 July 1916, Paris, France
Residence when prize awarded: Institut Pasteur, Paris, France
Award: "in recognition of their work on immunity"
Field: Immunity
Biography
Books
Images
Honoring Mechnikov's Name
History of Discovery
Harassment