Arthur Kornberg M.D.
The Nobel Prize in Physiology or Medicine 1959
Nobel co-recipient Servero Ochoa
National Medal of Science - Biological Sciences 1979
Physician, Scientist. Discovered mechanisms in biological synthesis of RNA and DNA - basis of discovery of recombinant DNA which helped ignite biotechnology revolution. Founder, DNAX Institute.

"With more scientists struggling for grants in an era of tight budgets, nobody is going to propose doing anything that is bold or creative."
Patents
Publication:
1/2
Publication No:
US 5512295 A
Title:
Synthetic liposomes for enhanced uptake and delivery
Publication Type:
United States Utility Patent
Publication Date:
Apr 30, 1996
Filing Date:
Nov 10, 1994
Inventors:
Kornberg Arthur, Castuma Celina
Assignee:
The Board Of Trustees Of The Leland Stanford Junior University
Abstract:
Liposomes are prepared comprising a polyhydroxybutyrate calcium polyphosphate complex which provides for uptake of a desired component, particularly nucleotides and nucleic acids. The charged species may be introduced into the lumen of a liposome by incubating liposomes with a solution of the component of interest for sufficient time to provide for introduction of the component into the lumen of the liposome, followed by washing at diminished temperatures. The resulting liposomes may then be used as vehicles for delivery of the lumen component.
Representative Figure:
No Figure
Family
Details
Google Patents
USPTO Patent Database
Publication:
2/2
Publication No:
US 20020081686 A1
Title:
Novel antimicrobial therapies
Publication Type:
United States Utility Patent
Publication Date:
Jun 27, 2002
Filing Date:
Jun 28, 2001
Inventors:
Kornberg Arthur
Assignee:
Kornberg Arthur
Abstract:
Methods and compositions are provided for treating a host suffering from a disease associated with the presence of a pathogenic microorganism. In the subject methods, a pharmaceutical formulation comprising an agent that at least reduces the amount of polyphosphate in said microorganism is administered to said host. The subject methods and compositions find use in the treatment of a variety of disease conditions.
Representative Figure:
Family
None
Details
Google Patents
USPTO Patent Database
Discover Your Abilities and Aspirations!

$10 $25 $50 $100 Other
Tax Exempt 501(c)3 Non-Profit Organization
Any Currency

"One comes to be of just such stuff as that on which the mind is set" - Maithri Upanishath, VI.34:3

"…the peace that is found in libraries and laboratories…" - Louis Pasteur
Ganga library non-profit 501(c)(3) org. Contributions tax deductible. IRS Tax ID 46-2892728

Copyright © 2020 Ganga Library Inc.   All Rights reserved.;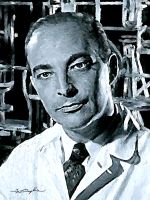 Photo NIH. Painting Tim Tompkins - PaintHistory.com
Name: Arthur Kornberg
Title: Professor and Head, Department of Biochemistry
Affiliation: Stanford University, Stanford, CA, USA
Gender: Male
Year Deceased: 26 October 2007, Stanford, CA, USA
Award Discipline: Biological Sciences
Award Year: 1979
Citation: "For accomplishments providing the conceptual and experimental framework for much of our current understanding of the manner in which DNA, the genetic substance is replicated."
Presented by President Carter at a White House Ceremony on January 14, 1980.
Nobel Laureate: Physiology or Medicine 1959
Birth: 3 March 1918, Brooklyn, NY, USA
Age Awarded: 61
Country of Birth: USA
Key Contributions: Research in DNA Replication
Awarded by: Jimmy Carter
Education: City College of New York
University of Rochester
Areas of Impact: Health & Medicine
Affiliations: Stanford University School of Medicine
Other Prizes: Nobel Prize
; ?>
Prize share: 1/2
Biography
Books
Honoring Arthur Kornberg
Images
Patents
Quotations