Robert Hofstadter Ph.D.
The Nobel Prize in Physics, 1961
Nobel co-recipient Rudolf Mössbauer
National Medal of Science - Physical Science 1986
Nuclear and particle physicist. Discoverer of sodium iodide scintillation counters. Carried out electron scattering from atomic nuclei, revealing structure of nuclei and nucleons. Original proposer of two-mile SLAC linear accelerator. Pioneer of gamma-ray astronomy, using EGRET detector aboard the Compton observatory. Research in laser fusion, applications of physics to medicine.
Books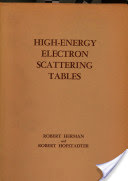 Title
High-energy Electron Scattering Tables
Author:
Robert Herman, Robert Hofstadter
Publisher:
Stanford University Press, 1960
IDBN:
0804705887, 9780804705882
Length:
278 pages

Find in a library near you. In Worldcat page, click book of interest to you. Scroll down to libraries which possess book. Possibly more than one person with same name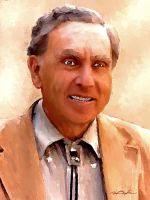 Painting Tim Timpkins - PaintHistory.com
Name: Robert Hofstadter
Birth: 5 February 1915, New York, NY, USA
Death: 17 November 1990, Stanford, CA, USA
Affiliation at the time of the award: Stanford University, Stanford, CA, USA
Prize motivation: "for his pioneering studies of electron scattering in atomic nuclei and for his thereby achieved discoveries concerning the structure of the nucleons"
Field: nuclear physics
Biography
Books
Publications
Patents
Quotations
Honoring Hofstadter
Signature

Discover Your Abilities and Aspirations!

$10 $25 $50 $100 Other
Tax Exempt 501(c)3 Non-Profit Organization
Any Currency

"One comes to be of just such stuff as that on which the mind is set" - Maithri Upanishath, VI.34:3

"…the peace that is found in libraries and laboratories…" - Louis Pasteur
Ganga library non-profit 501(c)(3) org. Contributions tax deductible. IRS Tax ID 46-2892728

Copyright © 2020 Ganga Library Inc.   All Rights reserved.;