Herbert S. Gasser M.D.
The Nobel Prize in Physiology or Medicine 1944
Co-Nobelist Joseph Erlanger
Physician, Electrophysiologist, Pharmacologist. Discovered differentiated functions of single nerve fibers. Two types of nerve fibers with different thicknesses; thicker fibers convey nerve impulses fast.

Two times for working on a problem - before anyone has thought of it and after everyone else has left it - result: innovator or finalist.
Books

Spencer Gasser
Find in a library near you. In Worldcat page, click book of interest to you. Scroll down to libraries which possess book. Possibly more than one person with the same name.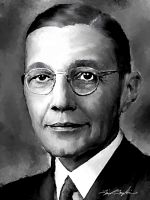 Photo Wiki. Painting Tim Tompkins PaintHistory.com
Name: Herbert Spencer Gasser
Birth: 5 July 1888, Platteville, WI, USA
Death: 11 May 1963, New York, NY, USA
Institution: Rockefeller Institute for Medical Research, New York, NY, USA
Award: "for their discoveries relating to the highly differentiated functions of single nerve fibres"
Subject: neurophysiology
Portion of cash: 1/2
Biography
Books
Publications
History of Discovery
Nobel Ceremonoy
Video
Lecturer, Collaborator, Co-Nobelist: Joseph Erlanger
Not Married