Sir Alexander Fleming M.B., B.S.
The Nobel Prize in Physiology or Medicine 1945
Co-Nobelists: Ernst B. Chain, Sir Howard Florey
Physician - Bacteriologist, Immunologist. While researching Influenza virus, made ground breaking discovery: penicillin, by not neglecting chance observation - mould contaminating culture plate. WWI caused interest in Antiseptics. WWII, production cost was immaterial. Destiny.

Lone worker gets idea; details developed by team, but prime idea is due to enterprise, thought, perception of an individual.
Biography
By Gillian Devine MSc, MA. Writer and Librarian
Alexander Fleming (1881-1955) was a Scottish scientist best known for the discovery of penicillin, the first antibiotic to be made widely available.
Born in Ayrshire, Scotland, an early appreciation for the natural world growing up amid the countryside led to an enthusiasm for science.
Initially working as a shipping clerk in London, Fleming used his scholarship and a family inheritance, to begin his studies in medicine at St. Mary's Hospital Medical School in 1901, going on to become awarded as the top medical student at the University of London. It was here he met Sir Almroth Edward Wright who would further influence his interest in immunology and where he met his wife, Sarah Marion McElroy, an Irish nurse, with whom he had a son, Robert, who would also later go into medicine. Fleming soon found his vocation in the field of bacteriology, which would prove to be highly valuable expertise when placed in the Royal Army Medical Corps during WW1. During this time he pioneered the simple combination of water and saline to treat injuries sustained in battle, and returned to an institute which would be eventually named after him - the Wright-Fleming institute - in honour of his advances in medical science.
In 1921 an early discovery of his career was made when it was found that lysozyme, an enzyme present in bodily fluids, could inhibit the spread of bacteria. However an even bigger discovery would be made entirely by accident in 1928, when a bacteria sample became contaminated by a mould which inhibited its growth. Fleming had just returned from holiday to his petri dishes in the laboratory, expecting the bacteria to have been destroyed and gone, but the lack of cleaning in his workplace had enabled a mould to grow. Originally called "mould juice", it was later called penicillin and was the ground-breaking discovery which would make a significant impact on the survival rates during WW2 and, eventually, lead to Fleming being knighted in 1944 and, most famously, being awarded the 1945 Nobel Prize for Medicine.
His wife passed away in 1949. A few years later he married Amalia Coutsouris-Voureka, a Greek microbiologist who enrolled on a similar scholarship to the teaching hospital where Fleming trained as a scientist. For the rest of his life, Fleming would be praised continuously for his revolutionary discoveries. He died in 1955. He was buried at St. Paul's Cathedral in London.
Interesting facts
The discovery of penicillin was hailed as "the greatest contribution medical science ever made to humanity."
Upon being awarded The Nobel Prize in Medicine, Fleming gained recognition due to the "romance of his chance discovery" - he had been reluctant to communicate with journalists at first but the Nobel Prize gave him, thereafter, the confidence boost to flourish in his career.
Fleming equally acknowledged the influences of fate and chance in making scientific discoveries, as evidenced in his speech upon receiving the Nobel Prize in Physiology or Medicine in 1945.
Fleming completely changed the way infections were treated during his service during World War I, by replacing aggressive antiseptic treatment, which did more harm than good in his opinion, with simple treatment with clean water and saline solution.
It was said of Fleming, after his death: "No man, except Einstein in another field, and before him Pasteur, has had a more profound influence on the contemporary history of the human race."
Alexander Fleming quotes
"Sometimes one finds what one is not looking for."
"It is the lone worker who makes the first advance in a subject; the details may be worked out by a team, but the prime idea is due to enterprise, thought, and perception of an individual."
'I have been trying to point out that in our lives chance may have an astonishing influence and, if I may offer advice to the young laboratory worker, it would be this - never to neglect an extraordinary appearance or happening.'
'We all know that chance, fortune, fate or destiny - call it what you will has played a considerable part in many of the great discoveries in science.' Banquet Speech 1945

Title:
The Life of Sir Alexander Fleming: Discoverer of Penicillin
Author:
André Maurois
Publisher:
Penguin Books, 1963
Original From:
Pennsylvania State University
Digitized:
Mar. 23, 2011
Length:
328 pages
Translated from the French by Gerard Hopkins and with an introduction by Robert Cruickshank.
Title:
Alexander Fleming: The Man and the Myth
Author:
Gwyn Macfarlane
Edition
Illustrated
Publisher:
Chatto & Windus, 1984
Original From:
University of Michican
Digitized:
Apr. 26, 2006
Length:
304 pages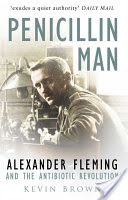 Title:
Penicillin Man: Alexander Fleming and the Antibiotic Revolution Sutton Series
Author:
Kevin Brown
Edition
Illustrated, reprint
Publisher:
Sutton Pub. 2004
ISBN:
0750931523, 9780750931526
Length:
300 pages
Subjects:
Science
Title:
The Mold in Dr.Florey's Coat: The Story of the Penicillin Miracle
Author:
Eric Lax
Edition
Reprint, Illustrated
Publisher:
McMillan, 2005
ISBN:
0805077782, 9780805077780
Length:
336 pages
Subject:
Medical History

Title:
Alexander Fleming and Penicillin (Pioneers of science and discovery)
Author:
W. Howard Hughes
Edition
2
Publisher:
Crane Russak & Company, 1977
ISBN:
0844810894, 9780844810898
Length:
96 pages
Title:
Penicillin, its Practical Application Butterworths medical publications
Editor:
Alexander Fleming
Publisher:
Blakiston, 1946
Length:
380 pages
Subject:
Penicillin

Alexander Fleming
Find in a library near you. In Worldcat page, click book of interest to you. Scroll down to libraries which possess book. Possibly more than one person with the same name.
Discover Your Abilities and Aspirations!

$10 $25 $50 $100 Other
Tax Exempt 501(c)3 Non-Profit Organization
Any Currency

"One comes to be of just such stuff as that on which the mind is set" - Maithri Upanishath, VI.34:3

"…the peace that is found in libraries and laboratories…" - Louis Pasteur
Ganga library non-profit 501(c)(3) org. Contributions tax deductible. IRS Tax ID 46-2892728

Copyright © 2022 Ganga Library Inc.   All Rights reserved.;