Paul Ehrlich
The Nobel Prize in Physiology or Medicine 1908
Nobel co-recipient Ilya Mechnikov
Physician, Scientist. Immunologist, Hematology pioneer. Founded Chemotherapy. Classified stains. Stained tissues, blood cell granules, tubercle bacillus. Standardized sera. Idea: Drugs' chemical constitution related to action, affinity for cells against which directed.

"Schwann established cell as biological unit. Concept of cell is axis around which whole modern science of life revolves"
Books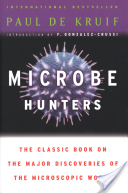 Title:
Microbe Hunters
Authors:
Paul de Kruif
Contributer
F. Gonzalez-Crussi
Publisher:
Houghton Mifflin Harcourt, 2002
ISBN:
0547542100, 9780547542102
Length:
372 pages
Subjects
Science Life Science Biology

Works by Paul Ehrlich at Project Gutenberg

Works by or about Paul Ehrlich at Internet Archive

Histology of the Blood by Paul Ehrlich and Adolf Lazarus at LibriVox, audiobook. Please scroll down.

Paul Ehrlich
Find in a library near you. In Worldcat page, click book of interest to you. Scroll down to libraries which possess book. Possibly more than one person.
Painting Tim Tompkins - PaintHistory.com
Name: Paul Ehrlich
birth: 14 March 1854, Strehlen (now Strzelin), Prussia (now Poland)
Death: 20 August 1915, Bad Homburg vor der Höhe, Germany
Affiliation at the time of the award: Goettingen University, Göttingen, Germany, Königliches Institut für experimentelle Therapie (Royal Institute for Experimental Therapy), Frankfurt-on-the-Main, Germany
Prize motivation: "in recognition of their work on immunity"
Field: Immunity
Prize share: 1/2
Biography
Books
Publications
Death
Dissertation/Thesis
History of Discovery & Quotations
Honoring Paul Ehrlich
Images
Videos