Élie Ducommun
The Nobel Peace Prize 1902
Nobel co-recipient Albert Gobat
Permanent International Peace Bureau [1910 Nobel Peace Prize]. Nobelist Passy's description: "exactitude, firmness." History Demonstrates War's Futility. Predicted, 1901: Despite modern weapons' destructiveness, wars will ebb, flow. Alfred Nobel's Contemporary.

Nobel Chairperson Løvland, "You Swiss, with your sense of life's realities, have special gift for taking ideas from realm of dreams and turning them into realities."
Bearing Ducommun's Name
Élie Ducommun: First International Peace Bureau
Bust of Élie Ducommun in Genfer Park Saint-Jean, Genève, Switzerland.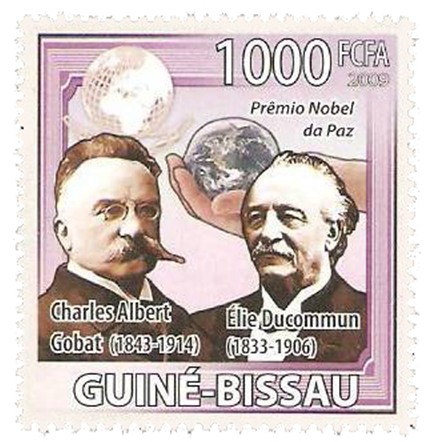 Guine Bissau stamp.Élie Ducommun (right), and 1902 Nobel Peace Prize co awardee Charles Albert Gobat.
Discover Your Abilities and Aspirations!

$10 $25 $50 $100 Other
Tax Exempt 501(c)3 Non-Profit Organization
Any Currency

"One comes to be of just such stuff as that on which the mind is set" - Maithri Upanishath, VI.34:3

"…the peace that is found in libraries and laboratories…" - Louis Pasteur
Ganga library non-profit 501(c)(3) org. Contributions tax deductible. IRS Tax ID 46-2892728

Copyright © 2023 Ganga Library Inc.   All Rights reserved.;
Photo: nobelprize.org
Name: Élie Ducommun
Birth: 19 February 1833, Geneva, Switzerland
Death: 7 December 1906, Bern, Switzerland
Residence at the time of the award: Switzerland
Role: Honorary Secretary, Permanent International Peace Bureau, Bern, Switzerland
Field: peace Movement
Books
Quotations
Images
Bearing Laureate's Name
Youth
Founder
Death