Norman E. Borlaug
The Nobel Peace Prize 1970
The President's National Medal of Science 1988 - Biological Sciences 2004
Award: "For his success in breeding semi-dwarf, disease-resistant high-yield wheat and instructing farmers in its cultivation under harsh growing conditions, thus providing a new high-quality food source for millions of people around the world."
Images
Norman Borlaug at 90. Date: March 29, 2004. Source: USDA, Wikimedia Commons.
Nigerian exchange students meet Nobel Prize winner Dr. Norman Borlaug (third from right) at the World Food Prize International Symposium, 2003. Source: USDA, Wikimedia Commons.
President George W. Bush congratulates Dr. Norman Borlaug during the Congressional Gold Medal Ceremony honoring the doctor's efforts to combat hunger Tuesday, July 17, 2007, at the U.S. Capitol. Author: Chris Greenberg. Source: Executive Office of US President, Wikimedia Commons.
Norman Ernest Borlaug. Source US Govt., Wikimedia Commons.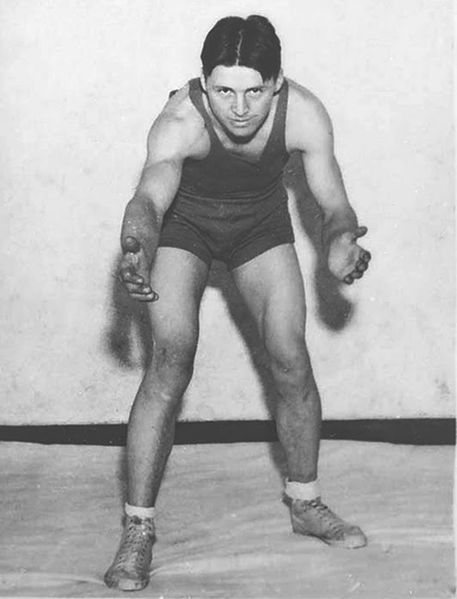 hoto University of Minnesota Department of Plant Pathology, Wikipedia.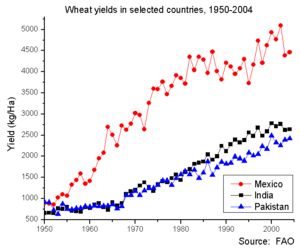 Wheat yields in Mexico, India and Pakistan, 1950 to 2004. Baseline is 500 kg/ha. Photo Brian0918, Wikipedia
Locations of Norman Borlaug's research stations in Mexico. Photo CIA, Wikipedia.
Discover Your Abilities and Aspirations!

$10 $25 $50 $100 Other
Tax Exempt 501(c)3 Non-Profit Organization
Any Currency

"One comes to be of just such stuff as that on which the mind is set" - Maithri Upanishath, VI.34:3

"…the peace that is found in libraries and laboratories…" - Louis Pasteur
Ganga library non-profit 501(c)(3) org. Contributions tax deductible. IRS Tax ID 46-2892728

Copyright © 2019 Ganga Library Inc.   All Rights reserved.;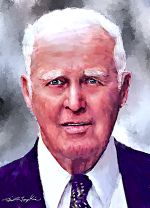 Photo ben Zinner, LISAID, WIki, Painting Tim Tompkins Painthistory.com
Name: Norman E. Borlaug
Birth: 25 March 1914, Cresco, IA, USA
Death: 12 September 2009, Dallas, TX, USA
Award: International Maize and Wheat Improvement Center, Mexico City
Portion of Cash: 1/1
National Medal of Science – Biological Sciences 2004. Distinguished Professor of International Agriculture:
Affiliation: Texas A&M University, College Station, TX Title: Distinguished Professor of International Agriculture
Citation: "For his success in breeding semi-dwarf, disease-resistant high-yield wheat and instructing farmers in its cultivation under harsh growing conditions, thus providing a new high-quality food source for millions of people around the world."
Presented by President George W. Bush in a White House East Room ceremony on February 13, 2006. Biography
Images
Books
Videos

<