Elizabeth M. Blackburn
The Nobel Prize in Physiology or Medicine 2009
Nobel co-recipients: Carol W. Greider, Jack W. Szostak
Award: "for the discovery of how chromosomes are protected by telomeres and the enzyme telomerase"
Medal, Cash & Philantrophy
Elizabeth Blackburn planned to use her Noble Prize money, a third of 10 million Swedish crowns ($1.42 million), as seed money for conducting research on new ideas. These ideas were small. Thus one would not consider writing a grant application for these ideas. She felt that the Nobel Prize money which freed her from being concerned about funding, would enable her to spend more time conducting research.
The work for which the Nobel prize was awarded was funded by the US Government. The California public education system was facing budget cuts. This could have caused a cut in the salary of Elizabeth Blackburn and her colleagues.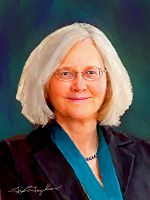 Photo: Science History Inst., Conrad Erb. Painting Tim Tompkins - Paint History.com
Name: Elizabeth M. Blackburn
Birth: 26 November 1948, Hobart, Tasmania, Australia
Institution: University of California, San Francisco, CA, USA
Award: "for the discovery of how chromosomes are protected by telomeres and the enzyme telomerase"
Portion of Cash: 1/3
Medal, Cash & Philanthropy