Ales Bialiatski
The Nobel Peace Prize 2022
Co-nobelists: Memorial, Center for Civil Liberties
Prize motivation: Human rights and pro-democracy activist. In Eastern Europe called, 'A beacon of light.' In prison when Nobel Prize announced.

"I keep peace in my soul, growing it like a flower. I pray that reality does not force me to dig up a long-buried axe to defend the truth."
Biography
Ales Bialiatski
Recipient of Nobel Prize in Peace 2022
By Lalitha M. Kutty, M.S. [Library & Information Science], M.A. [English Literature]
The 2022 Nobel Peace Prize was shared by Belarusian human rights and pro-democracy activist Ales Bialiatski, the Center for Civil Liberties (an Ukrainian organization that promotes democracy and civil society) and by Memorial (a Russian human rights organization).
The Prize for Peace is conferred by the Norwegian Nobel Committee to "the person who shall have done the most or the best work for fraternity between nations, for the abolition or reduction of standing armies and for the holding and promotion of peace congresses." The Nobel Prize website states that: "The Peace Prize laureates represent civil society in their home countries. They have for many years promoted the right to criticize power and protect the fundamental rights of citizens. They have made an outstanding effort to document war crimes, human right abuses and the abuse of power. Together they demonstrate the significance of civil society for peace and democracy." Berit Reiss-Andersen, the chair of the Norwegian Nobel Committee stated, "through their consistent efforts in favor of human values, anti-militarism, and principles of law, this year's laureates have revitalized and honored Alfred Nobel's vision of peace and fraternity between nations."
Since the 1980s, Mr. Bialiatski promoted democracy and human rights in Belarus. In 1986 Mr. Bialiatski cofounded a group of young writers that promoted Belarusian literature and cultural thought and corresponded with a broad awakening of Belarusian national identity. Mr. Bialiatski was a founding member of the Belarusian Popular Front (an organization that would enable a Belarusian national revival), serving as its Secretary from 1996 to 1999 and as Deputy Chairman from 1999 to 2001. Mr. Bialiatski is also a member of the Coordination Council which was set up to facilitate a democratic transfer of power in Belarus. Mr. Bialiatski was chairman of the Working Group of the Assembly of Democratic NGOs from 2000 to 2004. From 2007 to 2016, he was vice-president of the International Federation for Human Rights (FIDH). He is a member of the Union of Belarusian Writers and of the Belarusian PEN-Centre.
In addition to the Nobel Prize, Mr. Bialiatski's defense of human rights in Belarus has brought him numerous international accolades. In 2020, he won the Right Livelihood Award which is recognized as the world's premier award for personal courage and social transformation, widely known as the "Alternative Nobel Prize."
In 1996, when President Lukashenko came into power, protests and demonstrations followed and many protesters were also imprisoned. Mr. Bialiatski at this time founded a support organization, Viasna-96, also known as Viasna Human Rights Center. 'Viasna' which means 'Spring' in Belarusian, is a Minsk-based organization which was transformed into a nationwide Non-Governmental Organization in June 1999. Viasna provided support for the incarcerated demonstrators and their families. In 2003 the Supreme Court of Belarus canceled the state registration of the Viasna Human Rights Centre, thereby dissolving it, for its participation in observation of the 2001 presidential election. Since then, the organization has been working underground without registration. Viasna, which has a dozen local offices across the country, eventually became a human rights organization which documented the abuse and torture of political prisoners. In 2004, Viasna became member of the International Federation for Human Rights (FIDH). According to the World Coalition Against the Death Penalty, "the main goal of Viasna is defending human rights in order to secure respect for them by the government in the interests of everyone, without discrimination and building a just, free and democratic society." At the height of mass protests in Belarus in response to the Lukashenko regime's rigged presidential elections in August 2020, Mr. Bialiatski joined the opposition's coordinating council. During this period, human rights activists and Viasna representatives played a crucial role in supporting victims of state violence, gathering evidence of rights violations against those who had been imprisoned.
Due to his activism, Mr. Bialiatski faced arrest, supposedly for tax evasion and was sentenced to prison from 2011 to 2014, spending 1052 days in penal colony. During the disputed 2020 Belarusian elections, there were demonstrations and mass street protests against President Lukashenko's dictatorship. Following this event, without trial or conviction, Mr. Bialiatski was jailed again in 2021. This time he was accused of smuggling cash into Belarus to fund opposition activity.
In March 2023, Mr. Bialiatski was sentenced in the Belarusian capital Minsk, to ten years in prison for "cash smuggling" as well as "financing actions and groups that grossly violated public order" as reported by BBC News. Amnesty International called it "a blatant act of injustice wherein the state is clearly seeking to enact revenge for their activism." Human rights activists view the charges as fabricated in order to silence Mr. Bialiatski and his movement after he was awarded the Nobel Peace Prize. The European Association for Local Democracy states that "the prosecution and conviction of Ales Bialiatski on tax charges cannot disguise the true reasons for the harassment of the human rights defender. We are convinced that the tax charges, as well as the ill-treatment of personal bank accounts in EU countries meant for human rights activities in Belarus are nothing but a pretext for isolating the key figure of the country's human rights movement. We would also like to stress that the trial failed to produce even indirect evidence of Ales Bialiatski's guilt, for which he was severely punished."
Anders L. Pettersson, Executive Director at Civil Rights Defenders states that Bialiatski "is one of the strongest voices for democracy and human rights in Belarus. The Belarusian regime's desperate attempt to silence him and other critics with long prison sentences is appalling but not unexpected. The country's democracy movement has faced severe crack downs from the regime since the 2020 protests and the situation is constantly getting worse. The international community must continue to support those who stand up for human rights and democracy in Belarus."
Mr. Bialiatski was born to Belarusians Viktar and Nina Bialiatski on 25 September 1962 in Vyartsilya, Karelia in Russia. Mr. Bialiatski received his B.A. degree in 1984 in Russian and Belarusian Philology from Francisk Skorina Gomel State University. He was passionate about the Belarusian language and history. He married Natalia Pinchuk in 1987.
After graduation, Mr. Bialiatski worked as a school teacher in the Lyelchytsy District in Belarus. From 1985 to 1986, he served in the army as an armored vehicle driver in an antitank artillery battery near Yekaterinburg, then Sverdlovsk, Russia. In the mid-1980s, he joined the graduate school at the Institute of Literature at the Academy of Sciences in Minsk, and was one of the founders of the Belarusian Union of Writers and the Martyrology of Belarus association, which investigated communist repression prior to World War Two.
In the 1980s, Mr. Bialiatski was among the organizers of the first oppositional demonstration in the Belarusian Soviet Republic. In October 1988, Mr. Bialiaski joined the organizing committee of the Belarusian Popular Front movement, which was the basis of the first opposition faction in the Belarusian parliament that formed in the next year and a half, and later the first opposition political party. Thereafter, for some time he worked as a junior research assistant at the Museum of the History of Belarusian Literature. From 1989 to 1998, Mr. Bialiatski served as the head of the Maksim Bahdanovich Literature Museum. He is the author of a book of essays "Jogging along Lake Geneva Shore" published in 2006.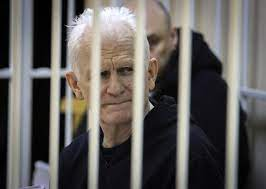 Alan Bialiatski (AP News, March 3, 2023)
Mr. Bialiatski is the fourth person to be awarded the Nobel Peace Prize while in prison. On 10 December 2022, Natalia Pinchuk received the Nobel Peace Prize on behalf of her imprisoned husband.
Awards & Accolades
Homo Homini Award (2005)
Per Anger Prize (2006)
Andrei Sakharov Freedom Award (2006)
Human Rights Defenders Award (2011)
Lech Walesa Award (2012)
Václav Havel Human Rights Prize (2013)
Civil Rights Defender of the Year (2014)
Sakharov Prize (2020)
Right Livelihood Award (2020)
Discover Your Abilities and Aspirations!

$10 $25 $50 $100 Other
Tax Exempt 501(c)3 Non-Profit Organization
Any Currency

"One comes to be of just such stuff as that on which the mind is set" - Maithri Upanishath, VI.34:3

"…the peace that is found in libraries and laboratories…" - Louis Pasteur
Ganga library non-profit 501(c)(3) org. Contributions tax deductible. IRS Tax ID 46-2892728

Copyright © 2023 Ganga Library Inc.   All Rights reserved.;