David Baltimore Ph.D.
The Nobel Prize in Physiology or Medicine 1975
Co-Nobelists Renato Dulbecco, Howard M. Temin
Award: "for their discoveries concerning the interaction between tumour viruses and the genetic material of the cell."Â 
Images
David Baltimore was one of Cold Spring Harbor's first undergraduate research students. Source: Cold Springs Harbor Laboratory Archives
Permission: Creative Commons Attribution-Noncommercial-No Derivative Works 3.0 United States License. Wikipedia.
From left: JPL Director Dr. Charles Elachi, La Canada-Flintridge Mayor Greg Brown, Baltimore and JPL Deputy Director Gen. Eugene Tattini.
Source: JPL, NASA, Wiki.
David Baltimore in the 70s Source: NLM, Wikipedia.
Discover Your Abilities and Aspirations!

$10 $25 $50 $100 Other
Tax Exempt 501(c)3 Non-Profit Organization
Any Currency

"One comes to be of just such stuff as that on which the mind is set" - Maithri Upanishath, VI.34:3

"…the peace that is found in libraries and laboratories…" - Louis Pasteur
Ganga library non-profit 501(c)(3) org. Contributions tax deductible. IRS Tax ID 46-2892728

Copyright © 2022 Ganga Library Inc.   All Rights reserved.;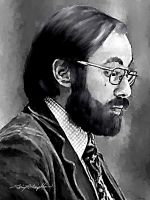 Photo Wiki Painting Tim Tompkins - PaintHistory.com
Name: David Baltimore
Birth: 7 March 1938, New York, NY, USA
Institution: Massachusetts Institute of Technology (MIT), Cambridge, MA, USA
Award: "for their discoveries concerning the interaction between tumour viruses and the genetic material of the cell."
Portion of Cash: 1/3
Education: Ph.D. Rockefeller University 1964. B.A. Chemistry, Swarthmore College 1960.
Thought Process
Images
books