Emily Balch
The Nobel Peace Prize 1946
Nobel co-recipient: John R. Mott
Role: Formerly Professor of History and Sociology, Honorary International President, Women's International League for Peace and Freedom
Images
Balch at 10 years old. Source: Bryn Mawr College.
Photo by Hinkle, Germantown, PA, courtesy of the Bryn Mawr College Archives.
Balch at Bryn Mawr College. Source: Harvard Square Library.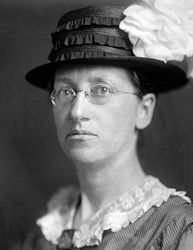 Emily Greene Balch between 1905 and 1945. Author: Harris & Ewing photo studio (George W. Harris & Martha Ewing). Source: Wiki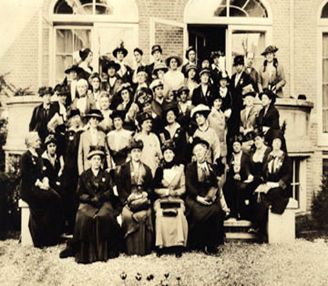 U.S delegation to the International Conference of Women for a Permanent Peace, held at The Hague, The Netherlands, 1915. Source: Bryn Mawr College.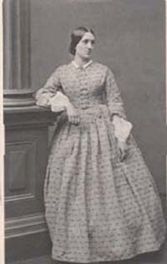 Ellen M. Noyes Balch, 1857. Mother of Emily Greene Balch. Source: Swarthmore College Peace Collection
Emily Balch, Bryn Mawr Class of 1889, was a gifted scholar and advocate with a uniquely global perspective. Source: Bryn Mawr College.
Emily Greene Balch (January 1867-January 1961) Source Wiki
Discover Your Abilities and Aspirations!

$10 $25 $50 $100 Other
Tax Exempt 501(c)3 Non-Profit Organization
Any Currency

"One comes to be of just such stuff as that on which the mind is set" - Maithri Upanishath, VI.34:3

"…the peace that is found in libraries and laboratories…" - Louis Pasteur
Ganga library non-profit 501(c)(3) org. Contributions tax deductible. IRS Tax ID 46-2892728

Copyright © 2021 Ganga Library Inc.   All Rights reserved.;
Photo Wiki. Painting Tim Tompkins PaintHistory.com
Name: Emily Greene Balch
Birth: 8 January 1867, Jamaica Plain, MA (now Boston), USA
Death: 9 January 1961, Cambridge, MA, USA
Residence: USA
Role: Formerly Professor of History and Sociology, Honorary International President, Women's International League for Peace and Freedom
Portion of Cash: 1/2
Nobel Prize Cash and Philanthropy
Images