Linus Pauling Ph.D.
The Nobel Prize in Chemistry 1954
The Nobel Peace Prize 1962
National Medal of Sciences - Physical Sciences 1974
Award: "for his research into the nature of the chemical bond and its application to the elucidation of the structure of complex substances" and Peace Prize 1962
Biography
A Biographical Memoir by Jack D. Dunitz. National Academy of Sciences. Bio 40 pages; total 43 pages.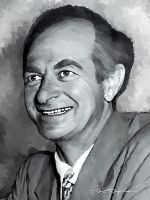 Photo Library of Congress, Wiki. Painting Tim Tompkins PaintHistory.com
Name: Linus Carl Pauling
Birth: 28 February 1901, Portland, OR, USA
Death: 19 August 1994, Big Sur, CA, USA
Institution: California Institute of Technology (Caltech), Pasadena, CA, USA
Award: "for his research into the nature of the chemical bond and its application to the elucidation of the structure of complex substances"
Subject: chemical bonding, theoretical chemistry
Portion of Cash: 1/1
Biography
Patents