Fridtjof Nansen
The Nobel Peace Prize 1922
Zoologist - Neuroscientist, Polar Explorer, Oceanographer, Humanitarian. 'Nansen Passports' for stateless refugees. Despite Russia then being suspect in Western nations, relief for 7,000,000 to 22,000,000 Russians dying of famine.

Ministered to refugees - methods became classic: custodial care, repatriation, rehabilitation, resettlement, emigration, integration.

Love of mankind is politics in practice.
The various biographies included here lay emphasis on different aspects of Fridtjof Nansen's life and work.

Fridtjof Nansen: A pioneer of knowledge, University of Oslo
About Fridtjof Nansen, Nansen Neuroscience Network.
'Fridtjof Nansen. Man of many facets'. Article by Linn Ryne
A Life in the Service of Science and Humanity. A biography of Fridtjof Nansen by Chr. A. R. Christensen.
On Fridtjof Nansen from The Fram Museum
Fridtjof Nansen - the humanist, from Norwegian Refugee Council

'Nansen a man of action and vision' from UNHCR

Works by or about Fridtjof Nansen at Internet Archive (scanned books original editions color illustrated)
Works by Fridtjof Nansen at Project Gutenberg (plain text and HTML)

Find in a library near you. In Worldcat page, click book of interest to you. Scroll down to libraries which possess book. Possibly more than one person with same name
Uploaded 12/1/2015
"One comes to be of just such stuff as that on which the mind is set" - Maithri Upanishath, VI.34:3

"…the peace that is found in libraries and laboratories…" - Louis Pasteur
Copyright © 2016 Ganga Library Inc. All Rights reserved. E-Mail: info@gangalib.org
Contact Us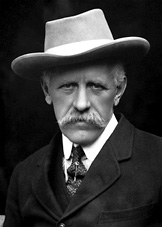 Photo: nobelprize.org
Name: Fridtjof Nansen
Birth: 10 October 1861, Kristiania (now Oslo), Norway
Death: 13 May 1930, Oslo, Norway
Residence at the time of the award: Norway
Role: Originator of "Nansen passports" (for refugees), Norwegian Delegate, Société des Nations, Explorer, Scientist
Field: humanitarian work
Biography
Books
History of Discovery
Thesis
Quotations
Images
Honoring Nansen
External Resources Text/Video