Paul Ehrlich
The Nobel Prize in Physiology or Medicine 1908
Nobel co-recipient Ilya Mechnikov
Physician, Scientist. Immunologist, Hematologist, A Founder of Chemotherapy. Stained tissues & classified stains: basic, acid, neutral. Stained granules in blood cells; pioneer in Hematology. Stained tubercle bacillus. Standardized sera. Idea: existence of relation of chemical constitution of drugs to mode of action & affinity for cells against which they are directed.

"Schwann established the cell as the final biological unit. Biology owes its immeasurable progress to the introduction of this concept of the cell. This concept is the axis around which the whole of modern science of life revolves"
Biography
Title:
Authors:
Paul de Kruif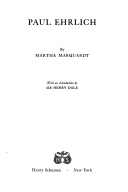 Title:
Paul Ehrlich Volume 19 of Life of Science library
Author:
Martha Marquardt
Publisher:
Schuman, 1951
Length:
255 pages
Subjects Summary
Biography & Autobiography Medical The indefatigable industry shown by Ehrlich throughout his life, his kindness and modesty, his lifelong habit of eating little and smoking incessantly 25 strong cigars a day, a box of which he frequently carried under one arm, his invariable insistence on the repeated proof by many experiments of the results he published, and the veneration and devotion shown to him by all his assistants have been vividly described by his former secretary, Martha Marquardt, whose biography of him has given us a detailed picture of his life in Frankfurt. In Frankfurt the street in which his Institute was situated was named Paul Ehrlichstrasse after him, but later, when the Jewish persecution began, this name was removed because Ehrlich was a Jew. After the Second World War, however, when his birth-place, Strehlen, came under the jurisdiction of the Polish authorities, they renamed it Ehrlichstadt, in honour of its great son.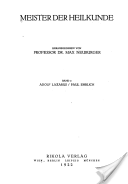 Title:
Author:
Adolf Lazarus
Publisher:
Rikola Verlag, 1922
Length:
88 pages
Language
GERMAN

Paul Ehrlich
Find in a library near you. In Worldcat page, click book of interest to you. Scroll down to libraries which possess book. Possibly more than one person.
Discover Your Abilities and Aspirations!

$10 $25 $50 $100 Other
Tax Exempt 501(c)3 Non-Profit Organization
Any Currency

"One comes to be of just such stuff as that on which the mind is set" - Maithri Upanishath, VI.34:3

"…the peace that is found in libraries and laboratories…" - Louis Pasteur
Copyright © 2017 Ganga Library Inc. All Rights reserved. E-Mail: info@gangalib.org
Contact Us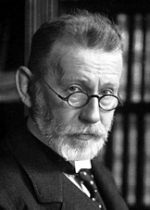 Photo: Nobelprize.org
Name: Paul Ehrlich
birth: 14 March 1854, Strehlen (now Strzelin), Prussia (now Poland)
Death: 20 August 1915, Bad Homburg vor der Höhe, Germany
Affiliation at the time of the award: Goettingen University, Göttingen, Germany, Königliches Institut für experimentelle Therapie (Royal Institute for Experimental Therapy), Frankfurt-on-the-Main, Germany
Prize motivation: "in recognition of their work on immunity"
Field: Immunity
Prize share: 1/2
Biography
Books
Publications
Death
Dissertation/Thesis
History of Discovery
Honoring Paul Ehrlich
Images
Quotations
Videos