Alfred Nobel
Chemist, Inventor, Awesome Administrator, Social Reformer.

"It could and should soon come to pass that all states pledge themselves collectively to attack an aggressor. That would make war impossible, and would force even the most brutal and unreasonable Power to appeal to a court of arbitration, or else keep quiet."
Patents
Alfred Nobel held 355 patents, including Swedish and English patents, worldwide. He invented dynamite. He conducted research to create innumerable products including synthetic rubber, leather and artificial silk.
Description:
Svenska: Alfred Nobels patentansökan om patent på tändhatten och principen för initialtändning av nitroglycerin.
English: Alfred Nobel's application for patent, regarding his percussion cap and principles for initial ignition of nitroglycerine.
Date:
June, 1864
Figure:
"One comes to be of just such stuff as that on which the mind is set" - Maithri Upanishath, VI.34:3

"…the peace that is found in libraries and laboratories…" - Louis Pasteur
Copyright © 2016 Ganga Library Inc. All Rights reserved. E-Mail: info@gangalib.org
Contact Us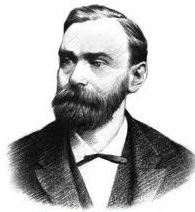 Photo: Nobelprize.org
Name: Alfred Bernhard Nobel
Birth: 21 Oct. 1833, Stockholm, Sweden
Death: 10 Dec. 1896 San Remo, Italy
Patents: Alfred Nobel held 355 patent worldwide.
Hobbies Poetry, Literature, Health
Languages Spoken: Swedish, Russian, French, English, German, Italian
Not Married
Biography
Alfred Nobel's Will
Bearing Nobel's Name
Childhood and Youth
Death
Diet
Family
Founder
Harassment
Health
Humor/Quotations
Images
Immigration
Interests, hobbies
Patents
Sadness
Videos
Work Environment